PRESS RELEASE
FOR IMMEDIATE RELEASE
CONTACT: Melissa Wong
PHONE: 949.442.8900
EMAIL: melissa.wong@trinetsolutions.com
WEBSITE: www.trinetsolutions.com
TRINET STREAMS WEBCAST LIVE FROM HAITI FOR SAMARITAN'S PURSE AND BILLY GRAHAM EVANGELISTIC ASSOCIATION
IRVINE, Calif., – January 17, 2011 – Trinet Internet Solutions Inc., an interactive web firm in Orange County, recently produced the live and archived webcast for the Festival of Hope in Haiti's capital city, Port-au-Prince where over 15,000 Haitians gathered to hear Franklin Graham speak and more than 20,000 viewers around the world tuned in online.
The evangelistic event was held at the country's National Soccer Stadium on January 9, 2011, days before the one-year anniversary of the devastating earthquake that killed more than 300,000 people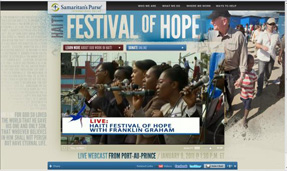 and left the entire nation in shambles. As Haiti continues to rebuild its physical structures, nonprofit organizations Samaritan's Purse and the Billy Graham Evangelistic Association teamed up to produce an event that would help rebuild the nation's hope. Franklin Graham, son of legendary evangelist Billy Graham, shared a message of encouragement after performances by musical guests Michael W. Smith, Lecrae and others.
Trinet worked alongside the two ministries to coordinate the live production, satellite coding, web interface, streaming broadcast and archival capabilities. The webcast was also mobile friendly, meaning Smartphone and iPad users were able to watch the event live from their mobile devices.
Trinet's President, John Carley, commented, "It's truly an honor to be a part of such a life-changing event. Trinet continues to take pride in providing high quality, cutting-edge technology to organizations working to bring hope to a world in need.
Visitors can watch the archived webcast on the Billy Graham Evangelistic Association website, or visit the Samaritan's Purse website to learn more about the event and other relief efforts happening in Haiti.
About Samaritan's Purse:
Samaritan's Purse is an international Christian relief organization that provides immediate, no-red-tape response to the physical and spiritual needs of individuals in crisis situations - especially in locations where few others are working. Samaritan's Purse has worked in more than 100 countries to provide aid to victims of war, disease, disaster, poverty, famine and persecution.
About Billy Graham Evangelistic Association (BGEA):
BGEA proclaims the Gospel of the Lord Jesus Christ throughout the world by every effective means available. From its headquarters in Charlotte, N.C., BGEA directs a wide range of domestic and international evangelism ministries, including: large-scale Festivals , print, television, telephone, radio and Internet campaigns
About Trinet Internet Solutions, Inc.:
Trinet Internet Solutions, Inc. is a full-service web firm with an East Coast office in the metro Washington, D.C. area. Founded in 1995 and now an award-winning agency with hundreds of clients, the company has grown to have expert capabilities in web strategy, design, advanced development, custom application programming, social media, search and mobile marketing, along with web campaign management, support and analysis. Trinet's portfolio of clients can be found at www.trinetsolutions.com/portfolio.
###
If you'd like to learn more about this topic or Trinet Internet Solutions, Inc. please contact Melissa Wong at 949.442.8900.