Trinet Internet Solutions Releases Live Video iPhone App For Trinity Broadcasting Network
Largest Religious Television Network Launches Video iPhone App to Stream Live Programming 24/7
IRVINE, Calif., – Feb. 13, 2010 – Trinet Internet Solutions, Inc., an Orange County web design firm, recently launched an iPhone app for the Trinity Broadcasting Network, which provides live streaming of the network's 7 channels 24 hours a day.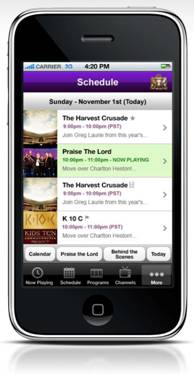 "This application revolutionizes television programming. Now TBN can expand their audience to the 6.4 million iPhone users in the U.S.," said John Carley, president, Trinet Internet Solutions, Inc.
The app's features include a live broadcast schedule, channel selection, on-demand viewing of archived shows, donation functionality and show listing. Now TBN mobile viewers can watch live TBN programming through Edge, 3G or WiFi connections.
While 5,000 television stations and 33 satellites around the world already feature TBN's religious programming, mobile viewers had represented a largely untouched audience until now.
"TBN wants to reach out and share the gospel through every possible medium. This iPhone application allows us to share the message of Christ with a rapidly growing mobile audience," said Paul Crouch Jr., Chief of Staff, TBN.
Users can download this free app by visiting Apple's App Store.
For more information about Trinet's mobile services,
please visit http://www.trinetsolutions.com/iphonelive/.
About Trinet Internet Solutions, Inc.:
Trinet Internet Solutions, Inc. is a full-service web firm headquartered in Irvine, CA with an East Coast office in the metro Washington, D.C. area. Founded in 1995 and now an award-winning agency with hundreds of clients, the company has grown to have expert capabilities in eMarketing strategy, consulting services, web design and development, custom application programming, social media, mobile marketing, iPhone app development, campaign management and measurement services. Trinet's portfolio of clients can be found at www.trinetsolutions.com/portfolio.
###
If you'd like to learn more about this topic or Trinet Internet Solutions, Inc.
please contact Kelly Lund at 949.442.8900 ext. 235.