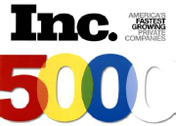 PRESS RELEASE
FOR IMMEDIATE RELEASE
CONTACT: Melissa Wong
PHONE: 949.442.8900
EMAIL: melissa.wong@trinetsolutions.com
WEBSITE: www.trinetsolutions.com
TRINET MAKES INC. 5000 LIST OF AMERICAíS FASTEST GROWING PRIVATE COMPANIES FOR THE 5TH TIME
IRVINE, Calif., – Aug. 27, 2012 – In its latest issue, Inc. magazine ranked Orange County web design firm, Trinet Internet Solutions, Inc. on its annual Inc. 5000 list, an exclusive ranking of the fastest-growing private businesses in the nation. The list represents a comprehensive look at the most important segment of the economy - Americaís independent entrepreneurs.
As an Inc. 5000 honoree, Trinet Internet Solutions, Inc. now shares a pedigree with Zappos, Under Armour, Pandora, Yelp, and many other notable brands on this yearís list. This marks Trinetís fifth appearance on the list, making it a member of the Inc. 5000 Honor Roll.
"We are thrilled to be recognized as a member of the Inc. 5000 for the fifth time," said John Carley, Trinetís President. "Trinetís continued growth can be attributed to the exceptional efforts of our employees in both the East and West Coast offices. We pride ourselves in providing innovative websites and excellent service to our clients that result in increased revenue, cost savings and better marketplace exposure."
This yearís list represents the top tier of businesses who experienced incredible growth from 2008 to 2011. In a stagnant economic environment, Trinet joins an exclusive group of companies who thrived through three of the toughest years this economy has seen.
"Now, more than ever, we depend on Inc. 500|5000 companies to spur innovation, provide jobs, and drive the economy forward. Growth companies, not large corporations, are where the actions is," says Inc. Editor, Eric Schurenberg.
About Trinet Internet Solutions, Inc.:
Trinet Internet Solutions, Inc. is a full-service web firm headquartered in Irvine, CA with an East Coast office in the metro Washington, D.C. area. Founded in 1995 and now an award-winning agency with hundreds of clients, the company has grown to have expert capabilities in eMarketing strategy, consulting services, web design and development, custom application programming, social media, mobile marketing, tablet development, campaign management and measurement services. To learn more, visit To learn more, visit http://www.trinetsolutions.com
About Inc 5000:
The Inc. 5000 is ranked according to percentage revenue growth from 2008 through 2011. To qualify, companies must have been founded and generating revenue by the first week of 2008, and therefore able to show four full calendar years of sales. Additionally, they have to be U.S.-based, privately held, for profit, and independent -- not subsidiaries or divisions of other companies -- as of December 31, 2011. The minimum revenue required for 2008 is $100,000; the minimum for 2011 is $2 million. As always, Inc. reserves the right to decline applicants for subjective reasons. More information can be found at www.inc.com

###
If you'd like to learn more about this topic or Trinet Internet Solutions, Inc.
please contact Melissa Wong at 949.442.8900.