PRESS RELEASE
FOR IMMEDIATE RELEASE
CONTACT: Melissa Wong
PHONE: 949.442.8900
EMAIL: melissa.wong@trinetsolutions.com
WEBSITE: www.trinetsolutions.com
ORANGE COUNTY WEB FIRM GOES GREEN!
Full-Service Web Firm Installs Specialized Solar Panels to Reduce Energy Consumption

IRVINE, Calif., – February 28, 2012 – In an effort to make their company more green, Orange
County web firm Trinet Internet Solutions, Inc. engineered and installed 52 solar panels on the
roof of their Irvine headquarters this past month.
As a company who is dedicated to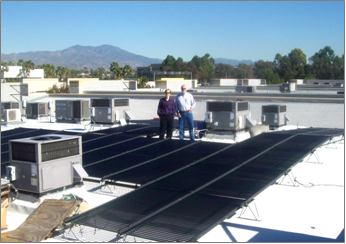 digital innovation, Trinet's leadership team knew
it made dollars and sense to think and
deliver more green. First, Trinet's team
of technicians painted the top of the web
firm's building with a reflective white paint
that causes the sun's heat and infrared
rays to reflect off the roof, offsetting heat
and energy buildup. The high-tech acrylic
roof coating reduces the building's
cooling usage by 20%.
Next, Trinet installed a specialized type
of solar panels that allow sunlight to
strike them from multiple angles, as well
as allow heat energy to reflect back off the roof thanks to the acrylic coating that covers the top
of the building. By using a web application, Trinet's technical staff has been able to track the
company's power usage and generation.

"In the first month, we've already generated 1 megawatt and plan to generate over 10MW this
upcoming year," states John Carley, President, Trinet Internet Solutions, Inc. The power we
generate will offset at least 50% of our power."
About Trinet Internet Solutions, Inc.:
Trinet Internet Solutions, Inc. is a full-service web firm headquartered in Irvine, CA with an East Coast office in the metro Washington, D.C. area. Founded in 1995 and now an award-winning agency with hundreds of clients, the company has grown to have expert capabilities in eMarketing strategy, consulting services, web design and development, custom application programming, social media, mobile marketing, tablet development, campaign management and measurement services. To learn more, visit To learn more, visit http://www.trinetsolutions.com
###
If you'd like to learn more about this topic or Trinet Internet Solutions, Inc.
please contact Melissa Wong at 949.442.8900.