PRESS RELEASE
FOR IMMEDIATE RELEASE
CONTACT: Melissa Wong
PHONE: 949.442.8900
EMAIL: melissa.wong@trinetsolutions.com
WEBSITE: www.trinetsolutions.com
TRINET SECURES PROGRAMMING TO OVER
30 MILLION HOUSEHOLDS
IRVINE, Calif., - June 29, 2012 - The custom Yahoo! TV Widget built by Trinet Internet Solutions, Inc. for Trinity Broadcasting Network (TBN) has received approval to be released on Samsung's entire 2011 TV line.
The TBN Yahoo! TV Widget, which was originally designed and developed by Trinet's team of web specialists in 2010, gave viewers unlimited access to the network's media content. The cutting edge technology provides the faith-based network a new way of broadcasting their content to Yahoo-enabled Internet Connected TVs worldwide, including over 30 million Samsung TV owners.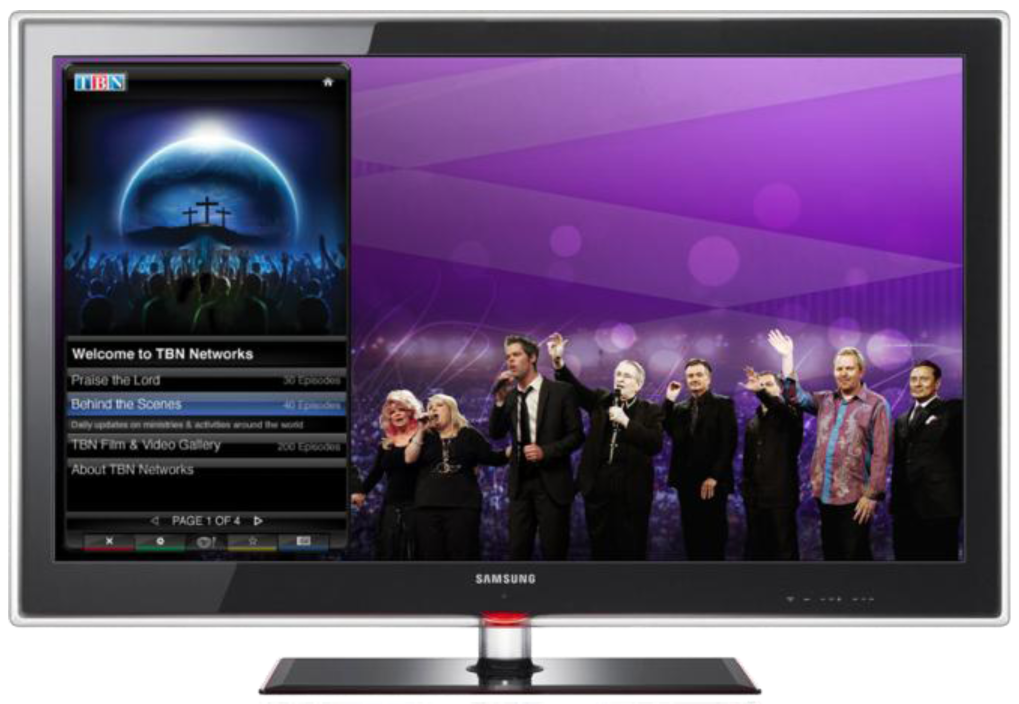 Samsung is currently the world's largest television manufacturer, owning 22% of the global market share of TVs, compared to Sony who currently owns 11%. Samsung's approval of TBN's Yahoo! Widget is another proud moment in the long-time partnership between Orange County interactive firm, Trinet Internet Solutions, Inc. and Trinity Broadcasting Network. Over the past two years, Trinet has also launched custom iPhone and Android Apps for the network, enabling live streaming and full access to the network's multi-channel content from mobile devices.
"We are thrilled that our collaboration with TBN now allows them to bring their content to millions of people all over the world," said John Carley, President of Trinet Internet Solutions, Inc.
For more information about Trinet's Internet TV services, please visit http://www.trinetsolutions.com/internet-TV
About Trinet Internet Solutions, Inc.:
Trinet Internet Solutions, Inc. is a full-service web firm headquartered in Irvine, CA with an East Coast office in the metro Washington, D.C. area. Founded in 1995 and now an award-winning firm with hundreds of clients, the company has grown to have expert capabilities in web strategy, design, development and custom application programming, including Android, iPhone, iPad and Yahoo! TV Widget development. To learn more, visit www.trinetsolutions.com
About Trinity Broadcast Network:
Trinity Broadcasting Network (TBN) is the world's largest religious network and America's most watched faith channel. TBN offers 24 hours of commercial-free inspirational programming that appeal to people in a wide variety of Protestant, Catholic and Messianic Jewish denominations. To learn more about TBN, visit www.tbn.org

###
If you'd like to learn more about this topic or Trinet Internet Solutions, Inc.
please contact Melissa Wong at 949.442.8900.