TRINET CASE STUDIES
World Vision International
World Vision International approached Trinet Internet Solutions, Inc. with the intention of incorporating User Experience fundamentals to their development team through their wvcentral application. World Vision International's overall objective was to develop a comprehensive User Experience Cookbook based on not only best practices, but more importantly, based on end-user validated prototype specifically focused on future wvcentral web application development efforts.
Extensive efforts were made to reach out, survey, test and validate recommendations with World Vision Internationals' worldwide staff. The final deliverable was a User Experience Cookbook, developed by Trinet, for World Vision International's Central Intranet to include: online surveys, phone/Skype interviews, developed click-through prototype, tested with various user groups. Wireframes were designed to provide the blueprint for the World Vision Central website. Wireframes helped demonstrate the user experience and navigational pathways intended for each user profile.
The World Vision Cookbook is a User Experience consulting book of recommendations written by Trinet to be used by the World Vision International team for improving the user experience on their intranet.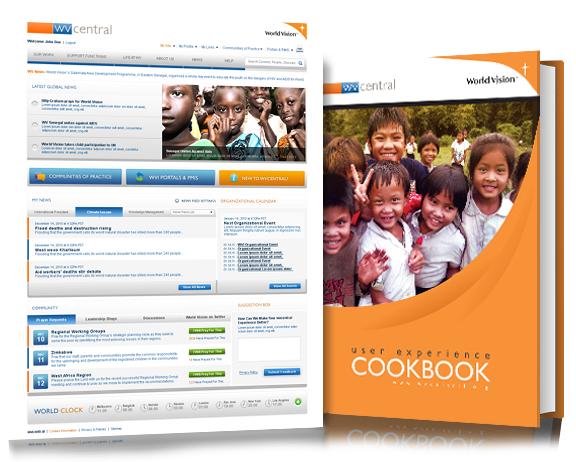 Services Provided:
Strategy Consulting

End-User Interviews

Online Surveys

Survey Evaluation & Analytics

Development of Click-Through Prototype

End-User Testing and Validation

Comprehensive Design