TRINET CASE STUDIES
Rock Moto
The MIC (Motorcycle Industry Council) turned to Trinet to launch a new niche social networking website for motorcycle enthusiasts. With the support of the US-based operations of Honda, Yamaha, Kawasaki, and Suzuki, RockMoto aimed to reach a new, younger demographic by appealing to the emotional connection between the feeling of riding a bike and the love for music. With the help of Trinet, the new social networking website included more than typical social networking best practices.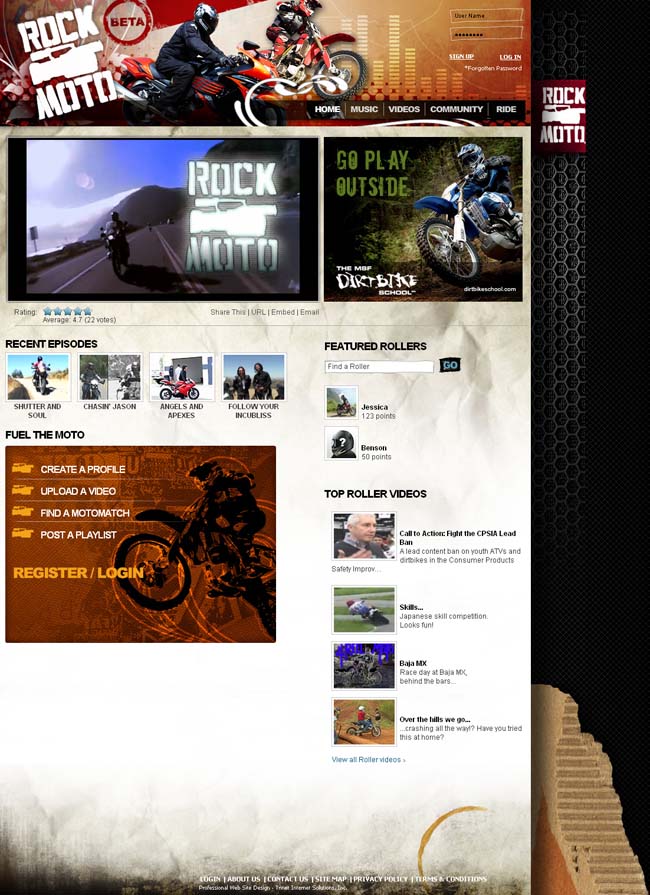 Services Provided:
Research, strategy and planning

Social media consulting

Website design and development

Custom application programming
Website Features:
Pandora-enhanced music player, which allows users to submit their own playlists to the site.

MotoMatch application connects riders with others in the community similar to themselves.

Product comparison tool with an advanced web wizard that recommends bikes based on user's style and ability.

Online videos featuring moto-enthusiast celebrities with video uploading capabilities.
Testimonial:
"From the early planning stages to the launch of the site, Trinet's staff provided the guidance, resources and inspiration we needed to meet our goals. Their comprehensive approach to strategy and execution, along with their immense creativity helped us develop a website that blew away our expectations."
- Jessica Prokup, Rock Moto
Awards:
2009 Stevie Award Finalist

2009 Silver Communicator Award