TRINET CASE STUDIES
ADRA for Kids
The ADRA for Kids website educates US children about the poor living conditions of children worldwide, through fun and non-fearful means. It provides tools for today's youth to become "little activists" by teaching them the value of awareness, volunteering and giving away their own money.
The "ADRA Kid Boxes," allow children to pack health, refugee and education boxes, by dragging and dropping life-enriching necessities such as medicine, vitamins, school books and pencils for children worldwide. After packing their box, they can purchase their donation with a parent's help. The "Kids in Action" page allows children to download kits that teach them how to get involved with tangible projects like yard sales, writing to government or becoming an ADRA ambassador. It also features success stories of children who have made a difference, while encouraging others to submit their story too.
The "Be a Kid in Another Country" section profiles the daily life of children in various countries with their favorite foods and hobbies, as well as living and economic conditions. Coloring books, games and foreign recipes also encourage cultural awareness. The "Parents Corner" gives ideas on how parents can support their kids in helping ADRA change lives.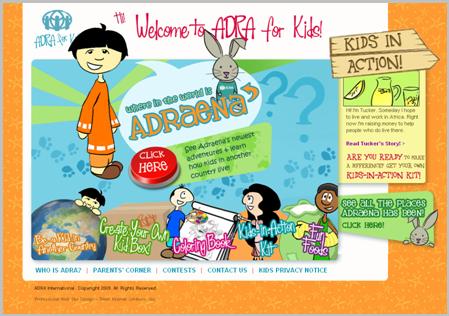 Services/Features Provided:
Strategy Consulting

Website Design and Development

Flash Animation

Custom Interactive Programming
Awards:
2009 Gold Davey Award

2009 Web Awards - Standard of Excellence