PRESS RELEASE
FOR IMMEDIATE RELEASE
CONTACT: Melissa Wong
PHONE: 949.442.8900
EMAIL: melissa.wong@trinetsolutions.com
WEBSITE: www.trinetsolutions.com
TRINET INTERNET SOLUTIONS LAUNCHES
CUSTOM WEBSITE FOR SUSTINA MOTOR OIL
IRVINE, Calif., – September 21, 2011 – Orange County web design firm, Trinet Internet Solutions, Inc. launched a new site for ENEOS-Nippon Oil USA debuting a revolutionary line of motor oil, called Sustina.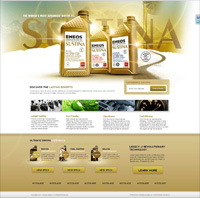 Amidst the trend of environmental consciousness, petroleum brand ENEOS debuts Sustina, a new line of fully synthetic motor oil. Developed from innovative technology, ENEOS Sustina provides for superior function while maintaining sustainable fuel economy.
Trinet's web strategy was to develop a site reflecting the quality of Sustina's premium synthetic motor oil, which is intended for high performance vehicles.
"This is a higher end product," stated Tim Wang, Manager of Lubricant Sales Division – ENEOS. "We needed to make sure we distinguished that theme."
By utilizing eye-catching colors and a clean design, Trinet's design team created a website that captures Sustina's optimal performance, efficiency and ecofriendliness. The customized site incorporates key features of the product line, such as rich tones from the brilliant gold bottle, which adds to the overall aesthetic of the site.
"We got exactly what we were looking for," Wang said following the site's launch.
To learn more about the ENEOS line of premium, eco-friendly engine oil, visit http://www.eneos.us

About Trinet Internet Solutions, Inc.:
Trinet Internet Solutions, Inc. is a full service web-firm, headquartered in Irvine, CA with an East Coast office in the metro Washington, D.C. area. Founded in 1995 and now an award-winning agency with hundreds of clients, the company has grown to have expert capabilities in web strategy, design, advanced development, custom application programming, social media, search and mobile marketing, along with web campaign management, support and analysis. Trinet's portfolio of clients can be found at www.trinetsolutions.com/portfolio.
About the JX Nippon Oil and Energy Corporation:
JX Nippon Oil and Energy Corporation is a Japanese petroleum company. The company's products are sold under the brand name ENEOS, which is also the name used for its service stations. ENEOS is derived from the words "energy" and the Greek word, "neos," meaning "new." The ENEOS engine oil products are specially designed for optimum performance and better fuel economy. As a result of the company's innovative research, the brand produces top of the line lubricants and other petrochemical products while complying with American Petroleum Institute (API) standards.
###
If you'd like to learn more about this topic or Trinet Internet Solutions, Inc.
please contact Melissa Wong at 949.442.8900.