PRESS RELEASE
FOR IMMEDIATE RELEASE
CONTACT: Melissa Wong
PHONE: 949.442.8900
EMAIL: melissa.wong@trinetsolutions.com
WEBSITE: www.trinetsolutions.com
TRINET WINS WEBAWARD FOR
THE Y OF CENTRAL MARYLAND'S WEBSITE
IRVINE, Calif., – October 3, 2011 – Trinet Internet Solutions, Inc., an Orange County web design firm, has been named an Outstanding Website WebAward winner by the Web Marketing Association for The Y of Central Maryland's website.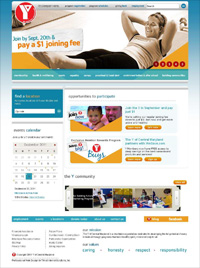 The site was recognized for its outstanding achievements in web development, receiving a total score that ranked higher than entries belonging to the same industry.
Judges of the WebAward competition specifically recognized the nonprofit organization's website for its "clean layout, great copy" and said that "the events calendar is great." Trinet's work on the website scored highest in the categories of innovation, interactivity and ease of use.
"We are honored to be recognized for our achievement in web development on behalf of the work we completed for The Y of Central Maryland," said Ron Weber, Chief Operating Officer of Trinet Internet Solutions, Inc. "The success of this site is a product of Trinet's expert strategy, paired with The Y of Maryland's goals for online success.
Visit the award-winning website at http://ymaryland.org.
More details about the Web Marketing Association's WebAward and a list of finalists and winners in all categories are available at www.webaward.org.

About Trinet Internet Solutions, Inc.:
Trinet Internet Solutions, Inc. is a full service web-firm, headquartered in Irvine, CA with an East Coast office in the metro Washington, D.C. area. Founded in 1995 and now an award-winning agency with hundreds of clients, the company has grown to have expert capabilities in web strategy, design, advanced development, custom application programming, social media, search and mobile marketing, along with web campaign management, support and analysis. Trinet's portfolio of clients can be found at www.trinetsolutions.com/portfolio.
About the Web Marketing Association:
Since 1997, the Web Marketing Association's annual WebAward Competition has been setting the standard of excellence for Website development. Independent expert judges from around the world review sites in 96 industries. The best are recognized with a WebAward, which helps interactive professionals promote themselves, their companies, and their best work to the outside world. The WebAward Competition is the premier award recognition program for Web developers and marketers worldwide. For more information, please visit http://www.webaward.org.
###
If you'd like to learn more about this topic or Trinet Internet Solutions, Inc.
please contact Melissa Wong at 949.442.8900.