Trinet Internet Solutions Named As Finalist in 2010 American Business Awards

Trinet Honored as Stevie® Awards Finalist for Hope for the Heroes Website

IRVINE, Calif., - June 29, 2010 - Trinet Internet Solutions, Inc. was recently named a Finalist in The 2010 American Business Awards for the Hope for the Heroes website in the Nonprofit Organizations category.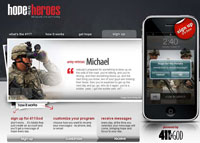 The American Business Awards are the nation's premier business awards program. All organizations operating in the U.S.A. are eligible to submit entries – public and private, for-profit and non-profit, large and small. More than 2,700 entries from organizations of all sizes and in virtually every industry were submitted for consideration in more than 40 categories.
Hope for the Heroes provides hopeful messages to troops returning from war. The organization's site offers daily encouragement to war survivors who have post-traumatic stress syndrome. Website viewers can read encouraging stories from other veterans and customize a daily uplifting message to receive at the time of their choice by phone, text or email.
Trinet designed and developed the Hope for the Heroes website featuring a flash slideshow of photos and quotes from soldiers on the frontline. Images and videos on the homepage guide web visitors to signup for 411 God, an application that sends daily hopeful messages to mobile phones and personal email addresses.
"This award exemplifies Trinet's commitment to excellence in developing websites that communicate our clients' message and exceed their expectations," explained Ron Weber, COO of Trinet Internet Solutions, Inc. "We are honored to be named a Finalist in this year's American Business Awards."
Finalists were chosen by business professionals nationwide during preliminary judging in April and May. Details about The American Business Awards and the list of Finalists in all categories are available at
www.stevieawards.com/aba
.
About Trinet Internet Solutions, Inc.:
Trinet Internet Solutions, Inc. is a full-service web firm headquartered in Irvine, CA with an East Coast office in the metro Washington, D.C. area. Founded in 1995 and now an award-winning agency with hundreds of clients, the company has grown to have expert capabilities in eMarketing strategy, consulting services, Web design and development, application programming and eMarketing management and measurement services. Trinet's portfolio of clients can be found at www.trinetsolutions.com/portfolio.
###
If you'd like to learn more about this topic or Trinet Internet Solutions, Inc.
please contact Melissa Wong at 949.442.8900.