Trinet Internet Solutions Launches Custom Website For Juice It Up!
Juice It Up! Gets a Fresh Redesign for Their Website
IRVINE, Calif., – June 16, 2010 – Trinet Internet Solutions, Inc., an interactive agency in Orange County, recently redesigned and launched a new website for 15-year-old Irvine-based company, Juice It Up!.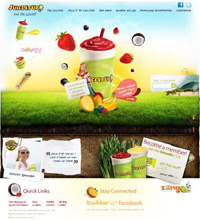 Trinet's website strategy for Juice It Up! was to visually embrace and enhance their fun and creative atmosphere, while featuring products and promotions with clear calls to action. The colorful website design encourages customers to visit its stores and community events. Site viewers are also guided to sign up for Juice It Up's Smooth eClub to receive free items.
"We are so pleased with the final result. We appreciate the time, work and creativity that Trinet put into this effort with us. We look forward to working together in the future and as our brand evolves," said Carol Skinner, business development and marketing director for Juice It Up!.
Trinet Internet Solution's complete redesign of the website, in addition to site enhancements, includes a dynamic flash banner and an engaging store locator page.
Visitors can directly access the company's Twitter and Facebook pages from the homepage. Information about Juice It Up's menu, catering services and fundraising opportunities are also available.
Visit the fun and engaging website at www.JuiceItUp.com.

About Trinet Internet Solutions, Inc.:
Trinet Internet Solutions, Inc. is a full-service web firm headquartered in Irvine, CA with an East Coast office in the metro Washington, D.C. area. Founded in 1995 and now an award-winning agency with hundreds of clients, the company has grown to have expert capabilities in eMarketing strategy, consulting services, Web design and development, application programming and eMarketing management and measurement services. Trinet's portfolio of clients can be found at www.trinetsolutions.com/portfolio.
###
If you'd like to learn more about this topic or Trinet Internet Solutions, Inc.
please contact Melissa Wong at 949.442.8900.