Trinet Internet Solutions Wins Stevie® Award In 7th Annual American Business Awards
Trinet recognized by the Orange County Register for Stevie Award
IRVINE, Calif. – June 23, 2009 – Last night, Trinet Internet Solutions, Inc. won a Stevie Award for its Rare Parts website redesign in The 2009 American Business Awards.

Cheryl Casone of Fox Business Network hosted the awards ceremony at the Marriott Marquis Hotel in New York City. Business TalkRadio Network covered the event with a nationwide broadcast.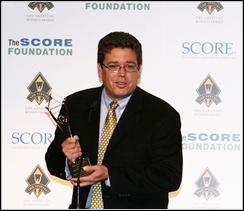 While accepting the Stevie, Trinet's VP of Sales and Marketing John Whittaker said, "A new web generation emerges every three months. This speed of innovation makes our projects and our careers exciting and energetic. At Trinet Internet Solutions, we make your passion our passion, whether you're one of America's leading corporations or a nonprofit dedicated to a higher cause."

In winning the Stevie, Trinet beat out other finalists including Driving Sales and Emkay, Inc. The Rare Parts website stood out above the competition with its edgy design, interactive product gallery and Build It Now application, which allows customers to order custom car parts.

More than 2,600 entries from companies of all sizes and in virtually every industry were submitted for consideration. The judging committee and advisors included more than 200 executives from companies like Kohl's, Career Builder, Wired Media, Southwest Airlines and Donald Trump himself.

Details about The American Business Awards and the list of Finalists and Stevie Award winners are available at www.stevieawards.com/aba.

If you'd like to learn more about this topic, Trinet Internet Solutions, Inc. or to interview John Carley, please contact Kelly Yerkovich at 949.442.8900 ext. 235.

About Trinet Internet Solutions, Inc.:
Trinet Internet Solutions, Inc. is a full-service web firm headquartered in Irvine, CA with an East Coast office in the metro Washington, D.C. area. Founded in 1995 and now an award-winning agency with hundreds of clients, the company has grown to have expert capabilities in: eMarketing strategy, consulting services, Web design and development, application programming and eMarketing management and measurement services. Trinet's portfolio of clients can be found at: www.trinetsolutions.com/portfolio.
About Trinet Internet Solutions, Inc.:
Stevie Awards are conferred in four programs: The American Business Awards, The International Business Awards, The Stevie Awards for Women in Business, and the Stevie Awards for Sales & Customer Service. Honoring companies of all types and sizes and the people behind them, the Stevies recognize outstanding performances in the workplace worldwide. Learn more about The Stevie Awards at www.stevieawards.com.