Trinet Internet Solutions in the April Issue of Church Executive Magazine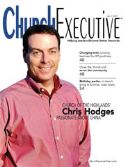 A California church uses the Web for more effective outreach
By Ron Weber, Chief Operating Officer for Trinet Internet Solutions, Inc.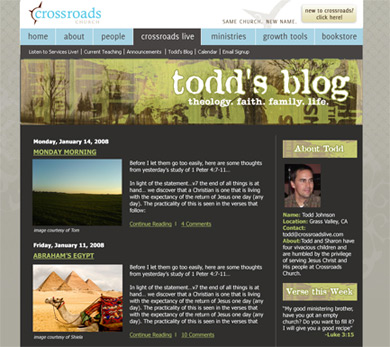 Church buildings provide walls for the Christian community. While traditional interaction occurs face-to-face, a growing percentage of church-goers connect through another medium — the Web. For Crossroads Church in Grass Valley, CA, their church lacked the kind of online presence that leadership felt was necessary for connecting with their congregation and reaching out to their local community.
"Frankly our Internet presence was pretty pathetic," says Tim Weeks, administrative pastor at Crossroads. "We had a Web site, but it was static, outdated — both in design and content and we basically ignored it as a tool for developing community within the church and extending the church's impact to the community around us."
Since partnering with Trinet Internet Solutions in Irvine, CA, Crossroads launched a more effective Web site to promote community within the church and provide a quality point of connection with the surrounding community. These initiatives amplify their ministry's impact by providing access, information and interaction through the Web.
"The daily, ongoing ministry at the church would be the same, but it wouldn't be as accessible as it is now," Weeks says.
The Crossroads Web site now uses effective tools for outreach. At the top of the homepage, a link to a visitor page guides interested attendees to key points, including their mission, location, service times, as well as information about kids' programs and student ministries.
"People in the community are consumer-oriented. They're looking for churches online," Weeks says. "Therefore, it's important for us to let people know who we are and what we're about."
Crossroads also revitalized their communication plan by abandoning the traditional text-heavy church newsletter for a formatted and image-oriented monthly email called the "eNetwork." This feature essentially serves as an interactive online bulletin. Visually appealing and to the point, the eNetwork provides direct links to blogs, updates, event registration and sermons. Users click their way through announcements, discovering more ways to get plugged in to the church.
Another piece in Crossroads Web communication strategy is a trimester e-newsletter called "The Intersection," which presents feature article introductions, enticing the reader with catchy overviews instead of lengthy, full versions. This allows recipients to read the highlights and then click on to read the expanded version.
Create additional ministry
"In many ways, the new Web site creates ministry," Weeks says. "Society has changed from going to the phonebook to going to the Web to look for everything. Now people in the church and local community are much more aware of what's going on at Crossroads."
This new awareness even fuels excitement about already existing programs, such as small groups, events, youth programs and volunteer opportunities. Offline and online efforts are married seamlessly as staff members immediately upload new programs or information about a series to the Web site. These weekly revisions keep the momentum running as new content increases user interaction.
As a result, returning visits have increased by 31 percent a month and Web site interaction continues to grow an average of 37 percent every month. "There's a sense of vitality as we are constantly changing the look and features of the homepage," Weeks says.
The Crossroads' staff fuels this sense of vitality by posting photos of church activities and familiar faces of church members through the "cc::photos" application. They upload recent pictures of church members, recent events, baptisms, camps and home groups. Albums showcasing mission trips also spark excitement for church supported programs, while furthering the accountability of church funds at work.
Two other important additions include a "Listen Live" feature and "Todd's Blog" (a blog hosted by the church's lead pastor), generated a large increase in Crossroad's Web activity. These features provide easy access to sermons and direct interaction with the pastor, making the church more approachable and personal.
"An important part of community is connecting with your leaders," Weeks says. "With 'Todd's Blog,' church members extend their interaction beyond Sunday morning sermons. They read the pastor's posts, dive deeper into topic discussions, share videos, review books, and really engage with one another."
Through the "Listen Live" feature, regular church members can hear sermons while out of town or at home. Meanwhile, interested attendees might preview a Sunday message if they are searching for a church home.
For other church leaders considering a more effective web approach, Weeks suggests strategic planning. "Don't just dive in because it's the thing to do," Weeks says. "Determine how the Web can assist you in fulfilling God's unique plan for your church and pursue that."
In other words, consider the goals of your ministry. Today, an effective Web presence can enhance the impact of a fruitful ministry.
"We needed to take advantage of the Internet to pursue our mission of seeing people living in a right relationship with Jesus Christ and to provide people with connection to our church," Weeks says.
For churches today, online ministry promotes on-site ministry. This platform allows churches to communicate their values, while interactive features connect, build, and grow the church community.
This article was used by permission of Church Executive, Volume 2009, Issue 4 – 4 2009, copyright © 2009. All rights to this material are reserved. Church Executive serves nearly 20,000 pastors, executive pastors, and church administrators of larger Christian churches and mega-churches on the business management of church life.