Trinet Partners with Fred Jordan Missions to Help Families Living on Skid Row
IRVINE, Calif., APRIL 22, 2009 – All children deserve a carefree Easter filled with egg hunts, baskets and treats galore. For children and families living on skid row, holidays can be yet another reminder of their difficult circumstances. Instead, Trinet decided to help bring the Easter celebration to them.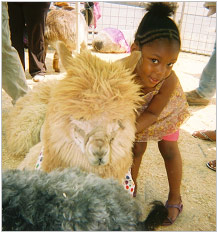 Trinet joined one of their clients, Fred Jordan Missions for their annual Festival of Life event in the heart of downtown Los Angeles. About a dozen employees volunteered for the day, which included an Easter Service, a BBQ lunch, gift-filled baskets, food boxes, new shoes and a carnival complete with a petting zoo, games, snow cones, bounce houses, cotton candy and popcorn.
"We wanted to support the amazing work of Fred Jordan Missions," said Monica Celnar, Trinet's operations manager who coordinated the volunteer group. "We had such a great time playing with the kids and being a part of such a worthwhile cause."
Later, everyone enjoyed a surprise visit from Bugs Bunny and Daffy Duck. The kids gave their famous friends lots of hugs after posing for a picture.
"For one day, we really changed people's lives," said Mark Nemeth, Trinet's client services manager.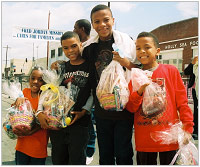 About Fred Jordan Missions: Since 1944, Fred Jordan Missions has worked on the streets of inner city Los Angeles and throughout the world to help share God's love by providing nourishing food, warm clothing, blankets and other vital services to people in need. To find out more about Fred Jordan Missions, visit www.fjm.org.
Would you like Trinet to conduct a WEB PERFORMANCE ANALYSIS of your site?

Call Kelly Yerkovich today at 949-442-8900 or email kelly.yerkovich@trinetsolutions.com

About Trinet Internet Solutions, Inc.:
Trinet Internet Solutions, Inc. is a full-service web firm headquartered in Irvine, CA with an East Coast office in the metro Washington, D.C. area. Founded in 1995 and now an award-winning agency with over two hundred clients, the company has grown to have expert capabilities in: eMarketing strategy, consulting services, Web design and development, application programming and eMarketing management and measurement services. Trinet's portfolio of clients can be found at: www.trinetsolutions.com/portfolio.