Irvine Mayor Sukhee Kang Awards Trinet for Their Service to the Community at the Business Breakfast
IRVINE, Calif., – APRIL 27, 2009 – With more than 15,000 businesses in Irvine and over 1,000 Irvine Chamber of Commerce members, Trinet Internet Solutions, Inc. was one of three finalists for the Business of the Year Award. Hundreds of businesses, Irvine citizens and chamber members attended the Business Breakfast as Mayor Sukhee Kang recognized Trinet for their service to the community.
"For this award, we give special consideration to companies that give their money, their time, which is sometimes more precious than corporate dollars and then internal attention to the health and welfare of their employees," said Linda Benjamin, Irvine Chamber senior vice president and COO.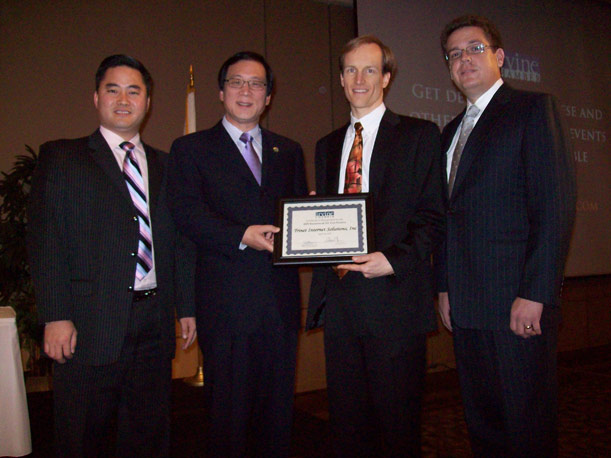 From left to right: Trinet Business Development Specialist James Chung, Irvine Mayor Sukhee Kang, Trinet President John Carley, Trinet VP of Sales and Marketing John Whittaker.
Trinet was the only private company recognized among the other publicly traded nominees including Albertsons, Local.com and the winner Kia Motors. Past winners include Wells Fargo and Baxter Healthcare Corporation.
"As a full-service web firm, we understand an effective online presence is a key component to thriving in today's economy," said John Carley, Trinet's president. "Each year, we select a nonprofit to receive a strategic website redesign, which parallels the scale and cost of paying customers."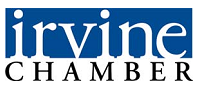 In Trinet's history, they have donated over 1500 hours of internal resources to nonprofits organizations, including Gateways to a Better Education, Fred Jordan Missions and Ambassadors Church.
During the Business Breakfast, Mayor Kang addressed today's financial climate by asking attendees to help grow business in Irvine.
"We carry a passion for our work because we consistently produce revenue-based results for our customers, even in today's economy," said John Whittaker, VP of sales and marketing for Trinet Internet Solutions. "In our strategic process, we use the web as a business tool to help our clients grow."
After 15 years of business and over 200 clients, Trinet has been crafting award-winning websites for businesses and nonprofits alike as long as the public has been using the Internet.
Would you like Trinet to conduct a WEB PERFORMANCE ANALYSIS of your site?

Call Kelly Yerkovich today at 949-442-8900 or email kelly.yerkovich@trinetsolutions.com

About Trinet Internet Solutions, Inc.:
Trinet Internet Solutions, Inc. is a full-service web firm headquartered in Irvine, CA with an East Coast office in the metro Washington, D.C. area. Founded in 1995 and now an award-winning agency with over two hundred clients, the company has grown to have expert capabilities in: eMarketing strategy, consulting services, Web design and development, application programming and eMarketing management and measurement services. Trinet's portfolio of clients can be found at: www.trinetsolutions.com/portfolio.