Transforming an Online Brochure into a Business Generating Interactive Website
From Static to Dynamic, How NutriShop Modernized their Web Presence to help their Dealers Sell More Product

Over 80% of consumers are researching your products online before ever stepping into a store or considering making a purchase.1 What is your website saying about your company? NutriShop, one of the fastest growing retail nutrition chains today, was sending their customers to a static website that was in essence an online brochure. NutriShop wanted to capitalize on the opportunity to upgrade their online brand and use the Web to grow their business.

The new website, www.NutriShopUSA.com, was designed to set the standard for others in the industry. The website features everyday people with whom most consumers can relate; whereas many brands in the nutrition industry use harsh and aggressive designs incorporating black or dark colors with photography of intimidating bodybuilders, the NutriShop design features fit people engaging in active lifestyles – imagery that is both inviting and inspiring.

"Trinet asked us to reconsider our branding strategy and to try something new," comments Bryon McLendon, NutriShop Vice President.
"We decided to trust their expertise and were blown away with the result!"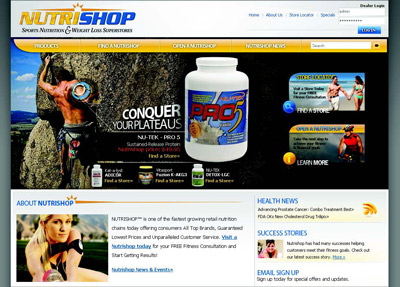 NutriShopUSA.com launched in late 2008. In addition to a fresh design, the site features many great interactive Web technologies that resulted in the following business benefits:

1. Effective Use of Valuable Website Real
Estate: A large flash area on the homepage that features products and promotions with dynamic calls to Action in an interesting and visuallyevoking way that resulted in more visitors becoming customers.

2. Superior Customer Service:
Highlighting NutriShop's stellar customer service practices was identified as one of the goals of the website. Trinet accomplished this goal by building success stories into the website to highlight the many great results NutriShop clients have realized as a result of using NutriShop products and interacting with NutriShop professionals.

3. Easier for Customers to Find Stores:
As NutriShop continues to grow, more and more locations are popping up all over the country. An advanced location finder using Google Maps provides users with a familiar and user-friendly way to find a local store.

4. Ability for NutriShop Dealers to Customize Their Own Websites:
For NutriShop, it was very important that the website provide online tools and resources for store owners to grow their brick-and-mortar NutriShop license program. In addition to the eCommerce capabilities, NutriShop went above and beyond and created three dealer templates that allow each store owner to individually represent their stores, provide custom information, and continue to feature product and promotions while adhering to corporate guidelines.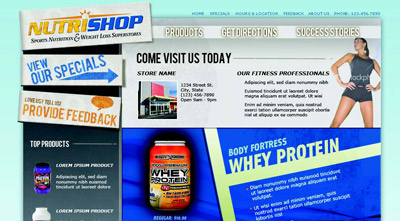 With plans for further enhancements and continued eMarketing efforts, NutriShop is excited to see their newly enhanced website catapult their business to the next level.

Trinet currently serves more than 200 clients in a wide variety of industries, enhancing their web presence by considering their business goals and developing web strategies that allow them to maximize profit, drive more traffic, decrease operational costs and build brand loyalty.