A Rockin' Synergy Between Motorcycles and Music
New social networking website unites moto enthusiasts through music

W e all know bikers roll… but did you know they also rock? The MIC (Motorcycle Industry Council) made this connection and launched a new social networking website that proves that motorcycles are not just for Dad and his "Harley-loving" friends.
Branded as RockMoto (www.rockmoto.com), the new website launched its Beta release in December 2008 and is already creating a buzz in the industry. With the support of the U.S.-based operations of Honda, Yamaha, Kawasaki and Suzuki, moto enthusiasts of all ages are discovering this new online community to be an edgy, fun place to connect.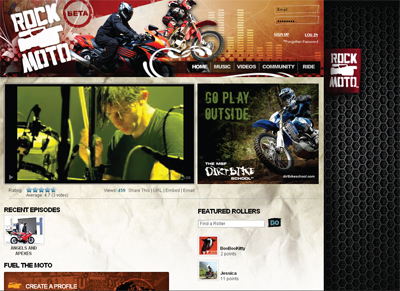 Designed and developed by Orange County full service web firm, Trinet Internet Solutions, Inc., RockMoto.com was developed with cutting-edge features and social networking best practices, including:
1.
Pandora-enhanced music player:
"A lot of the same emotions we get from music, motorcyclists also get from motorcycles," comments Jessica Prokup, host and inspiration for the new website. A partnership with Pandora allows community users to submit their own rockin' playlists to the site and duplicate it on their online profile.
2.
MotoMatch:
An online matchmaker that connects you with other riders for the ultimate moto networking experience. With MotoMatch, users are paired up with others who have similar riding interests. New riders can learn alongside other new riders, or they can learn from a mentor by pairing up with more experienced motorcyclists.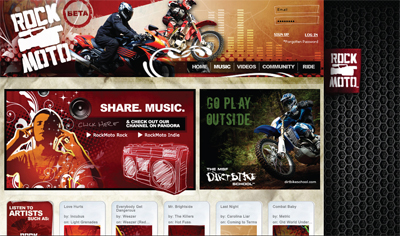 3.
Bike comparison:
New to riding and don't know what bike best suits you? This tool is an advanced web wizard that recommends bikes to buy based on a user's style, riding ability and the types of riding they'd like to do.
4.
Online Videos:
In 2009, if your website doesn't have video, it's probably not achieving its maximum potential. Knowing this, RockMoto opted to make video an integral part of the website. RockMoto publishes fresh videos every week featuring moto-enthusiast celebrities like Jason Freese of Green Day and music artists such as Angels & Airwaves. Not only celebs can upload videos though; this site appeals to the moto masses by encouraging users to upload their own videos, post messages about them, comment or rank other's videos, and share them with friends.
This is just the beginning. RockMoto has major plans to promote and grow their community both online and offline.
"RockMoto is on the cutting edge of where Social Networking websites are headed; it's so easy to get excited about what they're doing!" admits John Carley. "The whole team has such a positive and contagious energy and love for music and bikes, it's easy to catch the RockMoto bug!"
We have a lot of ideas to grow this community as an awesome resource and fun place for riders of all levels to connect. Moto enthusiast or not, everyone should check out the site; even if only to take a peek at the tricked out design and edgy style of RockMoto."
Trinet currently serves more than
200 clients in a wide variety of
industries, enhancing their web
presence by considering their
business goals and developing
web strategies that allow them
to maximize profit, drive more
traffic, decrease operational costs
and build brand loyalty.


Would you like Trinet to conduct a WEB PERFORMANCE ANALYSIS of your site?


Call Kelly Yerkovich today at 949-442-8900 or email kelly.yerkovich@trinetsolutions.com