A Rare Approach to Using the Web for Business Profitability
How Rare Parts is using the web to increase sales

How do we use the web to enhance our brand, generate more revenue and increase our brand loyalty in an overcrowded, competitive market?
This was the question that Rare Parts asked when they began to design their new website.
Recognizing the importance of communicating their unique value proposition and using the web to drive online sales, Rare Parts approached Trinet Internet Solutions, Inc. to create a solution for designing and developing a new company website.
"We kept hearing about how our competitors were leveraging the web to generate revenue and making it work for them," reflected Danny Burgess, President of Rare Parts. "We needed a piece of that commerce and wanted to be every bit as competitive online as other industry leaders."
Trinet's solution included:
1. Web Design: Creating a fresh new website design to better match the industry standards and product quality. The homepage design included a great Flash element which is used to display product and company information, highlight specific products and discounts in an efficient, easy-to-use manner. Trinet also created an admin tool which allows Rare Parts to easily update the banners to keep the site fresh and relevant.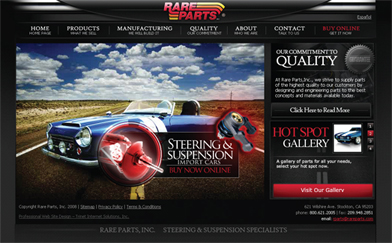 2.
"Hot Spot Callery" Application:
Utilizing Trinet's award-winning design department, the team produced a new online interactive experience, showing users firsthand a sampling of the custom parts available and encouraging immediate online purchases directly from the gallery.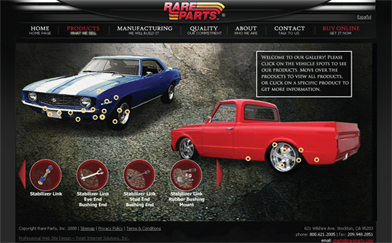 3.
"Build it Online" Application:
this application allows potential customers to begin the purchase process for customized parts providing dimensions and specs for the particular part they would like built. The request is immediately submitted to the Rare Parts Production Team via the web. By adding this application online, the process is simplified for both the customer and Rare Parts.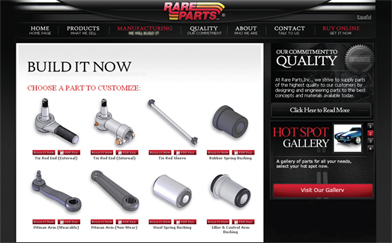 The Rare Parts site launched in October 2008 and can be found at: www.rareparts.com.
Future phases of the project will include design updates to the shopping cart, further eCommerce functionality and enhancements, allowing customers to experience a seamless purchase process and increased revenue for Rare Parts.
We look forward to continuing to work with the Rare Parts team; they're a great client because they're open to new ideas and using the latest web technologies to enhance their brand, generate more revenue and increase their brand loyalty.
Trinet currently serves more than 200 clients in a wide variety of industries, enhancing their web presence by considering their business goals and developing web strategies that allow them to maximize profit, drive more traffic, decrease operational costs and build brand loyalty.


Would you like Trinet to conduct a WEB PERFORMANCE ANALYSIS of your site?

Call Kelly Yerkovich today at 949-442-8900 or email kelly.yerkovich@trinetsolutions.com