Using Online Channels to Increase Revenue NOW
How one SOCAL B2B Company generated new leads, createddemand, and increased the bottom line

How do we use the Internet to generate new prospects and ultimately create a profitable business for our investors and shareholders?
As with many innovative companies, this was the question on the minds of NAS Medical's marketing team.
In 1998, NAS Medical (Nasdaq: NASM) became the first company to manufacture
cutting-edge brachytherapy treatments for prostate cancer. NAS Medical pioneered
these high-quality and cost-effective solutions that treated prostate cancer...and later adding breast cancer…they just needed to tell people about it.
"For us, it was a matter of finding the right partner who could guide us in this process. We knew our business, but we were looking for a partner who knew theirs," recalls Brian Miller, Director of Marketing for NAS Medical.
"After some research we found that partner in Trinet Internet Solutions, Inc., who offered something surprisingly unique in a web firm… strategy. We talked about developing a website for NAS Medical that not only looked great, but also 'told our story,' created demand and ultimately accomplished our core business objectives."
Trinet's solution included:
1. Market Research. Trinet conducted a survey that combined online tools and personal phone calls to physicians and prospects to collect testimonials to be published on the website.
Trinet also surveyed participants via an eBlast campaign to understand their needs, priorities and overall perception, and passed on the interested prospects' contact information as qualified sales leads to NAS Medical professionals.
2. Design and Develop a website. Trinet created final website recommendations based on the valuable insights uncovered from both surveys and combined that with the competitive research, analysis, targeted user trends and
internal client interviews to produce the new website for NAS Medical located at www.nasmedical.com.
The website includes: sales demos for industry tradeshows, downloadable research, a 3D eLearning module that teaches physicians how to implant the brachytherapy seeds, email sign up for news updates, database collection and viral marketing techniques.
The result is an award-winning website that is recognized by one of the marketing industry's most prestigious organizations, the W3 Awards, www.w3award.com. It won a Silver Award in the Health Care Services category in October 2008.
Late 2008 and early 2009 represents a time of big next steps for NAS Medical. Future plans include: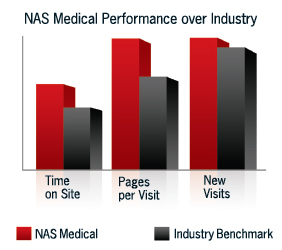 1. Adding eCommerce functionality
2. Customizing the eLearning module
3. Launching eMarketing programs
4. Implementing additional Web 2.0 interactive applications
5. Ongoing monthly enhancements and upgrades such as SEO and SEM
The NAS Medical site has seen great results in its early life and is expected to grow continuously and mature as demand increases.
As Brian Miller of NAS Medical would suggest, "find a web partner who is truly invested in your business and wants to see you succeed. It's important to find a group that is easy to work with and is able to work seamlessly with your unique business needs, your style and your schedule."
We are pleased to see the results of the NAS Medical website. From an analytics perspective, the NAS Medical website is performing well above industry standards and is hitting the mark with users.


Trinet serves more than 200 clients in a wide variety of industries, enhancing their web presence by considering their business goals and developing web strategies that allow them to maximize profit, drive more traffic, decrease operational costs and build brand loyalty.
Would you like Trinet to conduct a WEB PERFORMANCE ANALYSIS of your site?

Call Kelly Yerkovich today at 949-442-8900 or email kelly.yerkovich@trinetsolutions.com