PRESS RELEASE
Calvary Church Albuquerque's Website Showcases a Brand New Design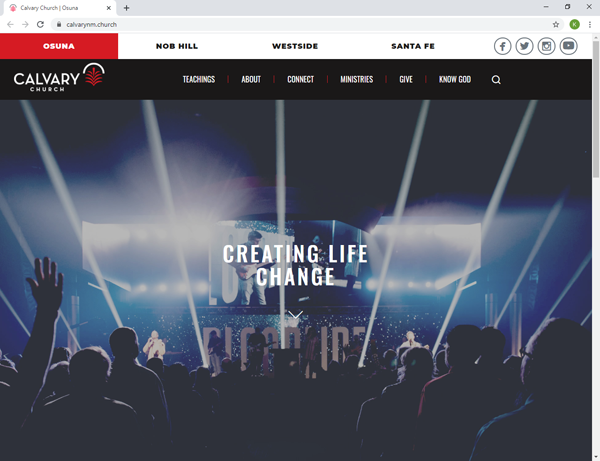 IRVINE, Calif., – May 20, 2020 – Calvary Church in Albuquerque, NM, led by Senior Pastor Skip Heitzig, was pleased to launch a new website on May 13, 2020. Built in WordPress, the upgraded website features a fresh, clean design and easy access to locations and services. The new layout was designed to feature all four of Calvary's campus locations - Osuna, Nob Hill, Westside, and Santa Fe, and the homepage presents three calls to action - connect groups, giving resources, and serving opportunities. Thanks to a prayer section, site viewers can easily fill out a form to have their requests prayed for, and an engaging 'Know God' page clearly explains the gospel through an easy-to-follow video by Pastor Skip. In addition, an extensive sermon library ensures members never have to miss a message - finding the desired one is a snap with a predefined category, sermon title, or word-for-word search.
Sam Garcia, Director of Web Services for Calvary Church Albuquerque, said, "I appreciate Trinet being available to assist us with the functionality of our new Calvary Church website."
"It was such an honor to work with Calvary Church Albuquerque," said John Carley, CEO of Trinet Internet Solutions. "We are thrilled to celebrate the launching this exciting new website, and our results here demonstrate how our innovative, professional teamwork distinguishes us from other digital agencies."
About Calvary:
Calvary Church Albuquerque is a Scripture-centered ministry dedicated to changing lives through the Gospel. Founded in 1982, and led by Senior Pastor Skip Heitzig, Calvary brings hope to the Albuquerque community by demonstrating Jesus' love through Sunday services, outreach, and more. For additional information, please visit their website https://calvarynm.church.
About Trinet Internet Solutions, Inc.
Trinet Internet Solutions, Inc. is a full service digital firm based in Irvine, CA, that specializes in helping clients grow their organization through award-winning websites, webinar digital lead funnels, digital advertising, efundraising, email marketing, search engine optimization, and more. To learn more, please visit www.trinetsolutions.com or call 949.442.8900 today.