PRESS RELEASE
Ellison Technologies Awarded Silver Davey Award for New Website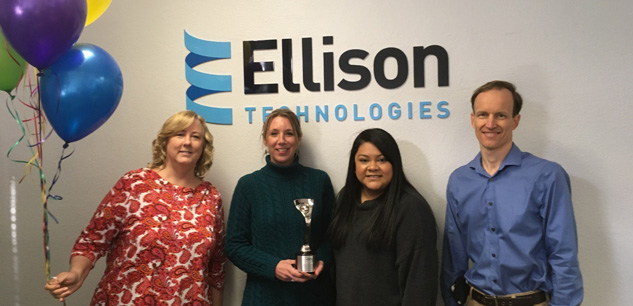 IRVINE, Calif., - January 16, 2020 - Ellison Technologies and Trinet were awarded a 2019 Silver Davey award for the launch of the new Ellison Technologies website at https://www.ellisontechnologies.com/.
"The Trinet team worked hard to launch this new website for Ellison Technologies, so we were very thrilled to hear about this prestigious award. Our team visited Ellison Technologies to personally present this award to Sara Bussan, the Director of Marketing," said John Carley, CEO of Trinet Internet Solutions, Inc.
The Davey Awards exclusively honors the "Davids" of creativity, the finest small agencies, firms and companies worldwide. David defeated the giant Goliath with a big idea and a little rock - the sort of thing small agencies do each year. The annual International Davey Awards honors the achievements of the "Creative Davids", who derive their strength from big ideas rather than big budgets. The Davey Awards is the leading awards competition specifically for smaller agencies as they compete with their peers to win the recognition they deserve. The Davey Awards is sanctioned and judged by the Academy of Interactive and Visual Arts, an invitation-only body consisting of top-tier professionals from a "Who's Who" of acclaimed media, advertising, and marketing firms.
About Ellison Technologies
Ellison Technologies provides advanced machining solutions to metal-cutting manufacturers and its global affiliates in North America. They are dedicated towards the growth and survival of the manufacturing industry in the United States. Ellison strives to make each of their customers world-competitive. Even if they are not competing on the global scale, Ellison will bring its full mastery of advanced manufacturing technology so they can provide the most comprehensive and productive solutions that the industry has to offer. To learn more please visit https://www.ellisontechnologies.com/
About Trinet Internet Solutions, Inc.
Headquartered in Irvine, CA, Trinet Internet Solutions, Inc. is a full service digital firm specializing in helping clients grow their organization through Web Strategy, Website Design and Development, Mobile Apps, Internet Connected TV Apps, and Online Marketing including Social Media Marketing, Online Fundraising, Email Marketing, Search Engine Optimization (SEO), Search Engine Marketing (SEM), and more. With 25 years in business, over 1500 award-winning digital projects, and more than 100 industry awards - trust Trinet to take your digital initiatives to the next level. To learn more, please visit www.trinetsolutions.com or call 949.442.8900 today.