PRESS RELEASE
Trinet's John Carley Speaks on Technology at COICOM 2019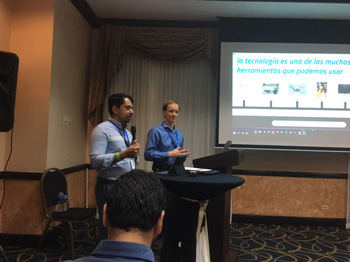 IRVINE, Calif., - November 26, 2019 - John Carley, Chief Executive Officer of Trinet Internet Solutions, traveled to San Salvador, El Salvador to speak at COICOM 2019. He spoke on best practices in ministry website development and promotion, five best digital marketing tools ministries should use, and why people should use technology to share the Gospel. The event was held at the Barcelo Hotel & Convention Center in San Salvador, El Salvador.
"El Salvador is a nation that needs the Gospel," said John Carley, "I believe it's important to spread God's word through the use of technology so we can reach a wider group of people. Technology is growing and we want to utilize it to the maximum potential for the El Salvadorian people."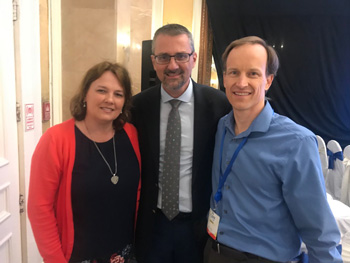 "Trinet's presentations during COICOM 2019 were powerful and eye opening to the attendees," said Arnold Enns, President of COICOM. He also added, "The reception to the presentations were positive and people appreciated the passion Trinet brought to the event this year."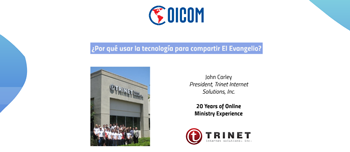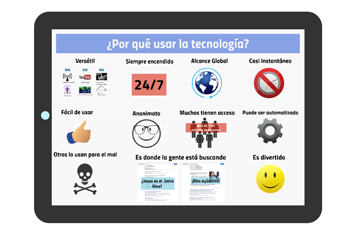 About COICOM International
COICOM (Confederation of Communicators and Christian Media) is a movement inspired by God that was founded in the nation of Bolivia in 1992. Their vision and mission is serving the Church and the Mass Media of Latin America with a paradigm of unity, integrity, efficiency and excellence in order to carry out the Great Commission to all Spanish-speaking nations of the Earth. These events that take place every year are the only congresses of their nature and dimension that bring together thousands of Christian communicators and leaders from more than 20 Latin American countries. COICOM is held annually in different nations and is the ideal meeting place for meetings between social communicators of all types of media, entrepreneurs, leaders and pastors from across the continent. The point of these events is to train, motivate and envision those participating in bringing the Gospel of Jesus Christ to the whole world. For more information please visit http://www.coicom.com/
About Trinet Internet Solutions, Inc.
Headquartered in Irvine, CA, Trinet Internet Solutions, Inc. is a full service digital firm specializing in helping clients grow their organization through Web Strategy, Website Design and Development, Mobile Apps, Internet Connected TV Apps, and Online Marketing including Social Media Marketing, Online Fundraising, Email Marketing, Search Engine Optimization (SEO), Search Engine Marketing (SEM), and more. With 23 years in business, over 1500 award-winning digital projects, and more than 100 industry awards - trust Trinet to take your digital initiatives to the next level. To learn more, please visit www.trinetsolutions.com or call 949.442.8900 today.