PRESS RELEASE
Trinet Leads Orange County Transportation Authority (OCTA) Major

CAMMNET Website Upgrade
IRVINE, Calif., – November 7, 2018 – The Orange County Transportation Authority launched a significant innovative website upgrade for the Orange County Transportation Authority's (OCTA) CAMMNET website, used by OCTA to manage vendor bids for their many projects and initiatives.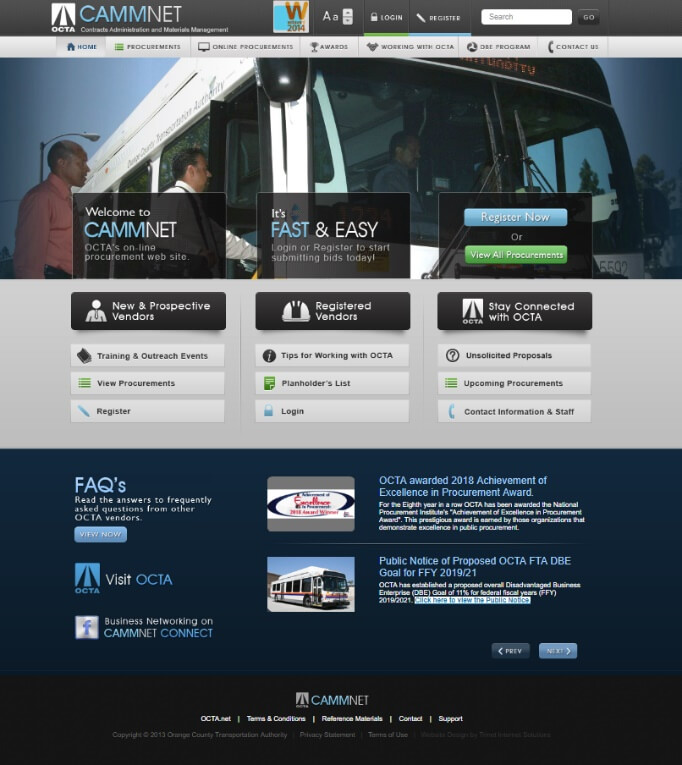 The development team at Trinet worked diligently in close collaboration with OCTA's team to develop the multi-vendor, multi-location per company CAMMNET website upgrade, and their hard work was warmly received.
"We are so pleased to be a trusted digital partner for OCTA, and look forward to supporting continued enhancements of OCTA's award-winning CAMMNET website in the future." said Ron Weber, COO of Trinet Internet Solutions.
The Orange County Transportation Authority (OCTA) is the public sector transportation planning body and mass transit service provider for Orange County, California. Since its formation in 1991, the Orange County Transportation Authority (OCTA) has kept residents and commuters moving throughout the 34 cities and unincorporated areas of Orange County. OCTA's responsibilities, programs and services impact every aspect of transportation within the state's third largest county.
About Trinet Internet Solutions, Inc.:
Headquartered in Irvine, CA, Trinet Internet Solutions, Inc. is a full-service digital firm specializing in helping clients grow their organization through Web Strategy, Website Design and Development, Mobile Apps, Internet Connected TV Apps, and Online Marketing including Social Media Marketing, Online Fundraising, Email Marketing, Search Engine Optimization (SEO), Search Engine Marketing (SEM), and more. With 23 years in business, over 1500 award-winning digital projects, and more than 100 industry awards &– trust Trinet to take your digital initiatives to the next level. To learn more, please visit www.trinetsolutions.com. Call 949.442.8900 today and get started.
###
If you would like to learn more about Trinet Internet Solutions, Inc., please contact Ron Weber at 949.442.8900