PRESS RELEASE
Autogeek Awarded the Silver Communicator Award of Distinction for Online Video: How-To/Instructional
IRVINE, Calif., – August 22, 2016 – The International Academy of Visual Arts announced the winners of the 21st Annual Communicator Awards of Distinction, awarding the Autogeek website the silver award in the Online Video: How-To/Instructional category for a website created by Trinet Internet Solutions, Inc.
The Communicator Awards is the leading international awards program recognizing big ideas in marketing and communication. Founded two decades ago, The Communicator Awards receives over 6,000 entries from companies and agencies of all sizes, making it one of the largest awards, of its kind, in the world.
The annual Communicator Awards honors the best in advertising, corporate communications, and public relations.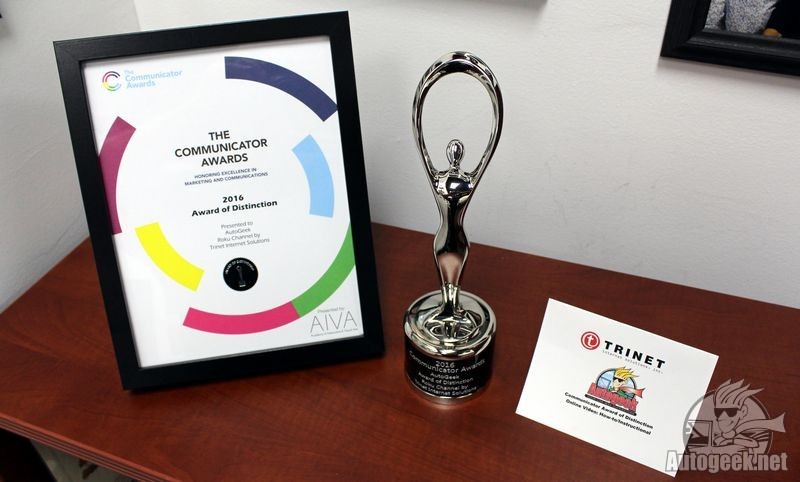 Trinet's team of designers and strategists collaborated with Autogeek to design a Roku channel. The goal of the Autogeek Roku Channel was to increase the availability of Autogeek's automotive detailing video content, and detail certification class to the public. By teaming up with Autogeek, and conducting industry research, Trinet determined effective strategies and comprehensive design to drive the engagement Autogeek is seeking.
"I hope everyone will join with me in congratulating... all of the staff here at Autogeek for their hard work behind the scenes that enables Autogeek to excel in the creation and dissemination of educational how-to videos across multiple platforms and social media touch points," said Mike Phillips, Autogeek Director of Training and host of the Roku training videos.
About Trinet Internet Solutions, Inc.
Trinet Internet Solutions, Inc. is a full service digital firm based in Irvine, CA with additional branches located in Dallas, TX and Washington, D.C. Founded in 1995, the company has grown to be an industry-leading expert in web strategy, design, advanced development, custom application programming, social media, search and mobile marketing, along with web campaign management, support and analysis. To learn more, visit www.trinetsolutions.com.
About Autogeeek
The Autogeek staff is an eclectic group of car-minded professionals who each bring something valuable to their warehouse and website. The Autogeek team strives every day to offer the largest selection of car care products, the best customer service, error-free order filling, and the most up-to-date detailing advice. Our goal is to provide products plus the know-how to achieve amazing results. At Autogeek, we draw on the decades of combined experience of our staff plus tireless research to bring the best products, service, and advice on the web. To learn more, visit http://www.autogeek.net/roku.html.
###