PRESS RELEASE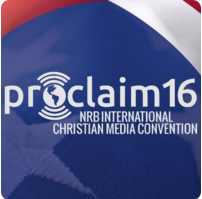 Trinet Brings a Breath of Fresh Air to the 2016 NRB PROCLAIM16 CONVENTION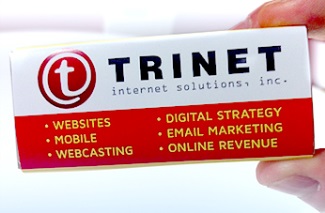 Conference attendees received a pack of Trinet-branded chewing gum
bringing a breath of fresh air for their mouths as well as for their digital marketing strategies.
IRVINE, Calif., – February 22, 2016 – Trinet Internet Solutions, Inc. headed to the 2016 National Religious Broadcasters (NRB) International Christian Media Convention in Nashville, TN to bring a breath of fresh air in the realm of digital marketing.
The Convention was kicked off with the Digital Media Summit on Monday, February 22, 2016. The pre-Convention event was hosted by the NRB Internet Committee, including Trinetís Chief Operating Officer Ron Weber, and featured speakers from some of todayís most prominent platforms, including Facebook, YouVersion, Hubspot, Faithlife, Christianity Today, and bestselling authors, among others.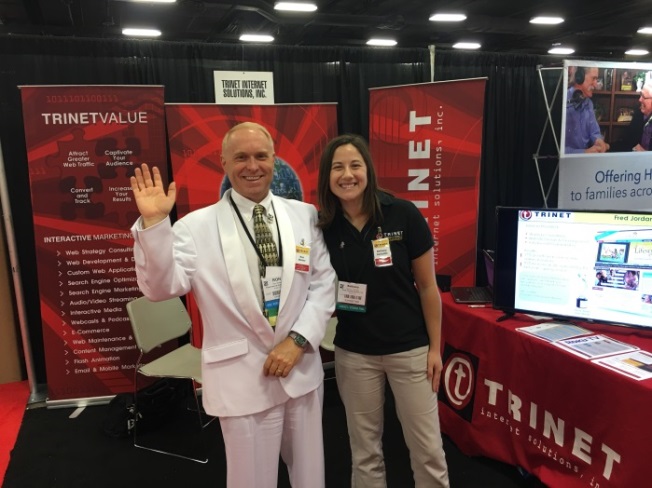 "It has been a privilege planning the Digital Media Summit and seeing the vision for this event come to fruition this year," said Ron Weber, Chief Operating Officer. "We are excited to see the culmination of resources coming together for a great purpose, and the overwhelming number of registrants this year."
Also, Trinet sponsored the Media Leadership Dinner for some of the most respected media leaders of the association. Trinetís sponsorship video featured passionate testimonies from an impressive list of Trinet clients, including Barry Meguir, from Revival Outside the Walls, who also presided over the event opening prayer. This year the dinner featured Judge Jeanine Pirro, Host of Justice with Judge Jeanine on Fox News Channel. The annual invitation-only gathering was on Tuesday, February 23, 2016 and assembled "principals" of NRBís member organizations and specially-invited VIP guests for a time of inspiration and interaction. Past speakers have included Steve Forbes, Ben Carson, and Eric Metaxas, among others.1 Trinet provided all dinner attendees with a pack of Trinet-branded gum to bring them a breath of fresh air for their mouths and their digital marketing strategies.
"We are happy to contribute in many of the exciting events throughout the convention and to share our resources at the NRB conference year after year," said Carley, NRB Board Member and CEO of Trinet. "We strive to bring a breath of fresh air to ministries helping them leverage the latest web technologies to increase engagement, create long-lasting partnerships, and grow online donations in order to reach more people for Christ."
To learn more about Trinetís involvement at the 2016 NRB Convention, contact Kristen Bandola at 949.442.8900.
About Trinet Internet Solutions, Inc.
Trinet Internet Solutions, Inc. is a full service digital firm based in Irvine, CA with additional branches located in Dallas, TX, and Washington, D.C. Founded in 1995, the company has grown to be an industry-leading expert in web strategy, design, advanced development, custom application programming, social media, search and mobile marketing, along with web campaign management, support and analysis. To learn more, visit www.trinetsolutions.com.
About NRB
The National Religious Broadcasters (NRB) is a non-partisan, international association of Christian communicators whose member organizations represent millions of listeners, viewers, and readers. Our mission is to advance biblical truth; to promote media excellence; and to defend free speech. In addition to promoting standards of excellence, integrity, and accountability, NRB provides networking, educational, ministry, and fellowship opportunities for its members. Learn more at www.nrb.org.
About Proclaim 16:
The annual NRB International Christian Media Convention is the largest nationally and internationally recognized event dedicated solely to assist those in the field of Christian communications. The dynamic Exposition consists of around 200 companies and is an active marketplace for those seeking tools and services to expand their organizations. Also on the Expo floor in 2016 will be an interactive exhibit presented by Museum of the Bible that chronicles the remarkable history of the Bible, from its transmission and translation to its impact and controversies. The upcoming Convention, Proclaim 16, will be held at the Gaylord Opryland Resort and Convention Center in Nashville, TN, February 23-26, 2016. The NRB Digital Media Summit, a pre-Convention event, will be held on February 22, 2016. Other summits that will take place during the week of Proclaim 16 include the Radio Summit, TV Summit, Church Media Summit, International Summit, Film & Entertainment Summit, and Donor Development Summit. There will also be a special Pastors Track. For more information, go to www.nrbconvention.org.
1 http://www.nrbconvention.org/judge-jeanine-pirro-to-speak-during-media-leadership-dinner-at-proclaim-16/
###