PRESS RELEASE
FOR IMMEDIATE RELEASE
CONTACT: Kristen Bandola
PHONE: 949.442.8900
EMAIL: kristen.bandola@trinetsolutions.com
WEBSITE: www.trinetsolutions.com
TRINET HONORED BRONZE STEVIE® AWARD FOR MARUCHAN, INC WEBSITE
IRVINE, Calif., December 2015 – The Stevie® Awards announced the winners for the 13th Annual American Business Awards, awarding Trinet Internet Solutions, Inc. high honors with a Bronze Stevie® Award for the design and development of the Maruchan, Inc. website in the category of Food and Beverage.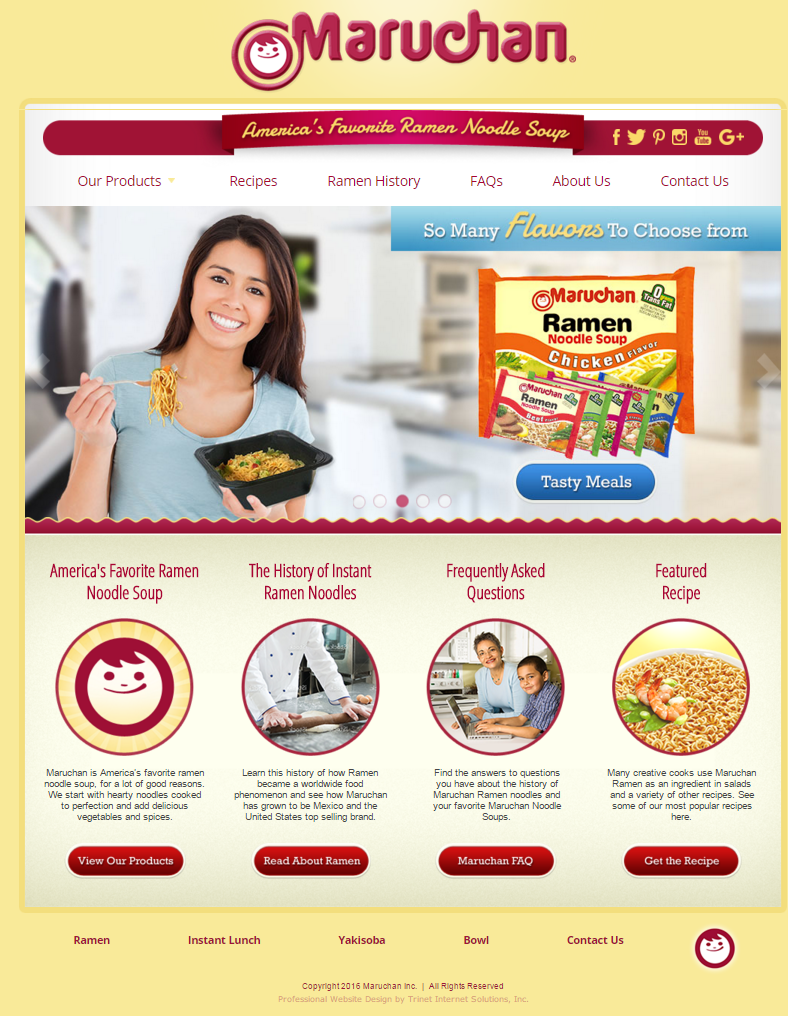 The Stevie® Awards are the world's premier business awards. They were created in 2002 to honor and generate public recognition of the achievements and positive contributions of organizations and working professionals worldwide. Stevie® Award judges include many of the world's most respected executives, entrepreneurs, innovators, and business educators. Each of the award programs harnesses the insights and talents of more than 200 judges every year.
In this year's competition, thousands of marketing corporations and companies of all sizes submitted entries to be considered and possibly chosen to be recognized for the work that goes beyond industry standards. Trinet was once again recognized as a top marketing competitor.
Trinet's team of designers and strategists collaborated with Maruchan, Inc. to launch a newly designed and developed website.
It's an honor to be recognized for a worldwide award," said Ron Weber, Chief Operating Officer of Trinet. "This recognition confirms the partnership of our strategists and developers along with Maruchan, Inc. can achieve a successful result."
To browse the Maruchan, Inc. website, visit www.maruchan.com.
About Trinet Internet Solutions, Inc.
Trinet Internet Solutions, Inc. is a full service digital firm based in Irvine, CA with additional branches located in Dallas, TX, and Washington, D.C. Founded in 1995, the company has grown to be an industry-leading expert in web strategy, design, advanced development, custom application programming, social media, search and mobile marketing, along with web campaign management, support and analysis. To learn more, visit www.trinetsolutions.com.
About Maruchan, Inc.
Maruchan, Incorporated was formed in 1977 and opened its first, ramen manufacturing plant in Irvine, California. America quickly discovered the convenience and great taste of Maruchan Ramen Noodle Soups and Maruchan, Inc. has since grown to include three state-of-the-art food processing facilities spread from coast to coast. Maruchan has a companywide commitment to always maintain consistent product quality, soup after soup. You can depend on Maruchan for quality products, all made with the highest of standards. For over thirty years, Maruchan has never wavered from its initial goal - to produce America's highest quality ramen noodle products and never compromise product quality. www.maruchan.com
About the Stevie® Awards
Stevie® Awards are conferred in six programs: The American Business Awards, the German Stevie® Awards, The International Business Awards, the Stevie® Awards for Women in Business, the Stevie® Awards for Sales & Customer Service, and the Asia-Pacific Stevie® Awards. Honoring organizations of all types and sizes and the people behind them, the Stevie's recognize outstanding performances in the workplace worldwide. Learn more about the Stevie® Awards at StevieAwards.com.
###