PRESS RELEASE
FOR IMMEDIATE RELEASE
CONTACT: Kristen Bandola
PHONE: 949.442.8900
EMAIL: kristen.bandola@trinetsolutions.com
WEBSITE: www.trinetsolutions.com
TRINET PRESENTED THE SUMMIT EMA LEADER AWARD FOR QUIET HOUR MINISTRIES WEBSITE
IRVINE, Calif., - May 2, 2015 – The Summit International Awards (SIA) announced the winners for the 2014 Summit Emerging Media Award (EMA) presenting Trinet Internet Solutions, Inc. high honors with the Leader Award for the design and development of the Quiet Hour Ministries website in the Portal Website category.
The 2014 competition received over 1,200 entries from several countries. Only 7 percent of those entries earned recognition by award judges. The Summit Emerging Media Award evolved through a need to recognize and celebrate creativity, innovation and those pushing the bounds of creative excellence in all forms of emerging media.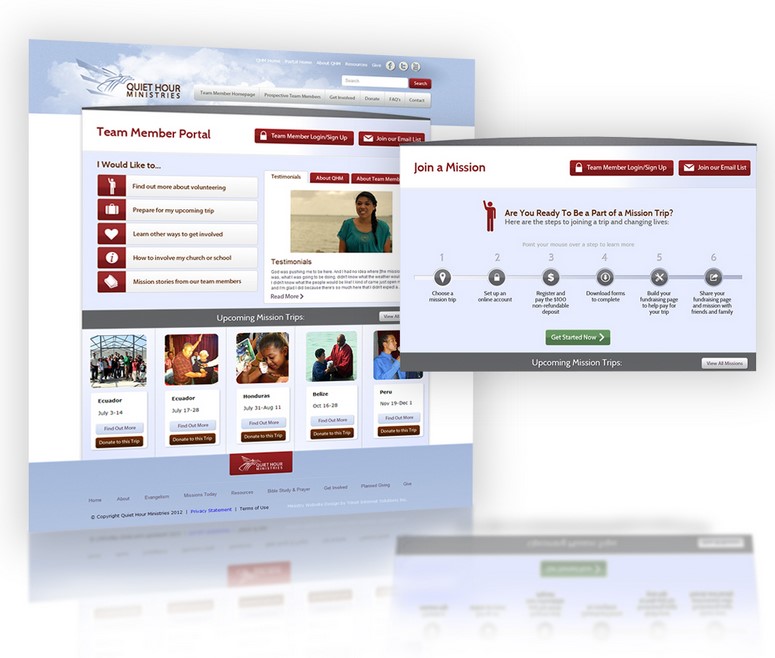 "Those involved in today's emerging media technologies are the leaders who are establishing tomorrow's avenues of advertising communications." Said Jocelyn Luciano, Executive Director for the Summit International Awards (SIA). "Most communication professionals recognize that established avenues of communication can be reliable and safe however audiences are becoming increasingly fragmented and difficult to engage, inform and affect. Developing, applying and combining emerging media with creative messaging and market awareness is challenging. Achieving this synthesis is what makes earning a Summit EMA a significant achievement."
Trinet's team of designers and strategists collaborated with Quiet Hour Ministries, an international evangelism ministry that has reached more than 135 countries to launch a newly designed and developed website.
"Our volunteer portal is essential to our mission trips—which are the core program of our organization," said Randy Bates, president/CEO of Quiet Hour Ministries. "Trinet really grasped our management needs, CMS options and logistical hurdles. They then created a solid user experience on the front end and clear, consistent data delivery on the back end. It's wonderful to see that work recognized."
"We are grateful and honored to have won this award," said Ron Weber, Chief Operating Officer of Trinet. "This proves that a successful partnership with Quiet Hour Ministries can produce winning results."
To browse the award-winning website, visit www.qhministries.org.
About Trinet Internet Solutions, Inc.
Trinet Internet Solutions, Inc. is a full service digital firm based in Irvine, CA with additional branches located in Dallas, TX and Washington, D.C. Founded in 1995, the company has grown to be an industry-leading expert in web strategy, design, advanced development, custom application programming, social media, search and mobile marketing, along with web campaign management, support and analysis. To learn more, visit www.trinetsolutions.com.
About Quiet Hour Ministries
Quiet Hour Ministries is a worldwide evangelism ministry that has reached more than 135 countries. They focus on volunteer-based evangelism in efforts to touch many lives and have sent hundreds of volunteer team members on evangelism mission trips. Their combined outreach has reached more than 200,000 people every year in countries throughout the world.
www.qhministries.org.
About The SIA Awards
Throughout its twenty one-year history, the organization has established itself as one of the premier arbiters of communication excellence. They award marketers, coders, designers, developers, innovators, visionaries and leaders. Using stringent evaluation criteria and blind judging processes, its competitions reward only those firms whose work exemplifies the best in its class. Companies from all over the world invest their promotional dollars for the opportunity to be recognized as a Summit International Award winner. The organization conducts three awards each year: Summit Creative Award, Summit Emerging Media Award and Summit Marketing Effectiveness Award. Additional information about the Summit International Awards and its programs is available at www.summitawards.com.
###