PRESS RELEASE
FOR IMMEDIATE RELEASE
CONTACT: Kristen Bandola
PHONE: 949.442.8900
EMAIL: kristen.bandola@trinetsolutions.com
WEBSITE: www.trinetsolutions.com
TRINET AWARDED SILVER FOR W3 AWARD FOR AC MARTIN WEBSITE
IRVINE, Calif., – March 2015 – The W3 Awards announced the winners for the 9th Annual Awards, awarding Trinet Internet Solutions, Inc. high honors with a Silver W3 Award for the design and development of the AC Martin in the Construction category.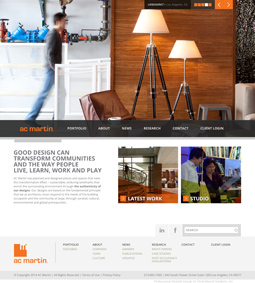 The Winners of the 2014 W3 Awards were announced by the Academy of Interactive and Visual Arts. Receiving over 4,000 entries, The W3 Awards honors outstanding Websites, Web Marketing, Web Video, Mobile Sites/Apps & Social content created by some of the best interactive agencies, designers, and creators worldwide.
"We were once again amazed with the high level of execution and creativity represented within this year's group of entrants. Our winners continue to find innovative and forward-thinking ways to push the boundaries of creativity in web design" said Linda Day, the director of the Academy of Interactive and Visual Arts. "On behalf of the entire Academy, a huge congratulations to this year's winners for their dedication and commitment to excellence on the Web — job well done!"
Trinet's team of designers and strategists collaborated with AC Martin, a Los Angeles based architecture, planning, interior architecture and research firm that uses an integrated design approach to create enduring environments for the 21st century, to launch a newly designed and developed website.
Donna Clandening, Principal of AC Martin, was pleased at the success that came from the collaboration with Trinet. "Since our launch, there are several folks here who have gone through this and are very complimentary, especially of its functionality. We're continuing to add projects, and are uploading 'News' items almost on a daily basis. In addition, the 'Contact Us' form has been working great. (Almost too well, as I'm receiving emails about twice a day, including weekends.)"
"Winning this award is a gratifying accomplishment," said Ron Weber, Chief Operating Officer of Trinet. "We are excited to be partnered with AC Martin and that partnership has been so successful."
To browse the award-winning website, visit www.acmartin.com
About Trinet Internet Solutions, Inc.
Trinet Internet Solutions, Inc. is a full service web-firm based in Irvine, CA with additional branches located in Dallas, TX and Washington, D.C. Founded in 1995, the company has grown to be an industry-leading expert in web strategy, design, advanced development, custom application programming, social media, search and mobile marketing, along with web campaign management, support and analysis. To learn more, visit www.trinetsolutions.com.
About AC Martin
AC Martin's approach is constantly evolving and growing. Architecture has changed exponentially since their inception in 1906; the ever-increasing pace of technology means that their industry is in a constant state of flux. AC Martin's priority is to be at the forefront with an approach that is sustainable, technologically advanced, informed by research and pushes the boundaries of design. To learn more, visit www.acmartin.com
About the W3 Awards
The W3 Awards honors creative excellence on the web, and recognizes the creative and marketing professionals behind award winning sites, videos and marketing programs. Simply put, the W3 is the first major web competition to be accessible to the biggest agencies, the smallest firms, and everyone in between. For more information about the W3 Awards, please visit www.w3award.com.
###