PRESS RELEASE
FOR IMMEDIATE RELEASE
CONTACT: Hailey Cho Henry
PHONE: 949.442.8900
EMAIL: hailey.henry@trinetsolutions.com
WEBSITE: www.trinetsolutions.com
New AC Martin Website Provides Positive Results
IRVINE, Calif. – June 18, 2014 – AC Martin, a Los Angeles based architecture, planning, and research firm, partnered with Trinet Internet Solutions, Inc., to create a more engaging and interactive website that models their standard of quality and excellence.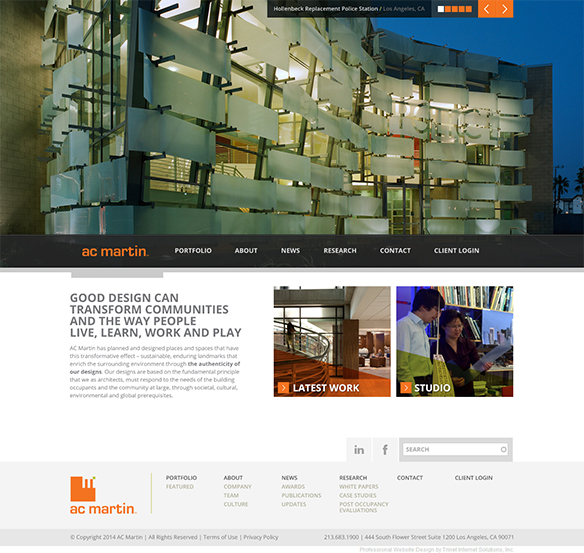 To achieve those results, Trinet provided strategic consulting, as well as website design and development, to refresh their online presence both visually and structurally.
Trinet built the website using a robust Content Management System (CMS), providing AC Martin the tools to directly post updates to their website with ease. The new website features user-friendly navigation, interactive elements, and image-centric landing pages that engage the user and enhance the overall experience. Additionally, the newly implemented portfolio categories provide users with clear direction based on sector and project types.
Since the launch of the website in December, the site has seen an increase of 77% more visitors and over 99,000 pageviews within the first 6 months. Additionally, the site currently averages 6.3 page views per session, which is roughly 37% above benchmarks.
"Since launch, the website is working like a dream," said AC Martinís Director of Marketing, Donna Clandening. "Our staff compliments its functionality and the increased number of 'Contact Us' submissions indicate we are effectively reaching one of our target markets. The Trinet team couldn't have been better to work with, and kept us on track throughout the process."
To view the new site, visit: www.acmartin.com.
###
About Trinet Internet Solutions, Inc.:
Trinet Internet Solutions, Inc. is an industry-leading full service digital firm specializing in helping clients grow their organization through Web Strategy, Website Design and Development, Mobile Apps, Internet Connected TV Apps, and Online Marketing including Social Media Marketing, Online Funding, Email Marketing, Search Engine Optimization (SEO), Search Engine Marketing (SEM), and more. Founded in 1995, Trinet offers web marketing solutions to businesses, ministries, and non-profit organizations nationwide to bring bottom-line results. To learn more, please visit www.trinetsolutions.com.
About AC Martin:
AC Martin is a Los Angeles based architecture, planning, interior architecture and research firm that uses an integrated design approach to create enduring environments for the 21st century. For more information, please visit www.acmartin.com.