PRESS RELEASE

FOR IMMEDIATE RELEASE
CONTACT: Melissa Wong
PHONE: 949.442.8900
EMAIL: melissa.wong@trinetsolutions.com
WEBSITE: www.trinetsolutions.com
TRINET STREAMS LIVE WEBCAST FOR URBAN PROMISE
Diane Sawyer Helps UrbanPromise Celebrate 25 Years

IRVINE, Calif., – Sept. 28, 2012 – Yesterday, interactive web firm, Trinet Internet Solutions Inc. produced the live and archived webcast for UrbanPromise's 25th Anniversary Banquet. The event was held at the Scottish Rite Theater and included remarkable performances and anecdotes from both children and adults served by UrbanPromise over the years.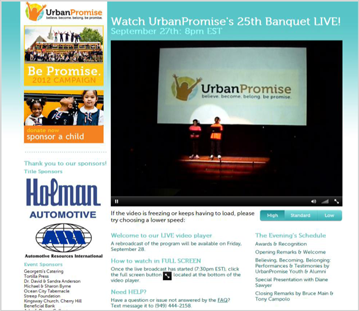 Trinet's team captured and broadcasted the live event as 'ABC World News' anchor, Diane Sawyer spoke to nearly 1,000 guests, encouraging the youth to "set the world on fire."
Together with UrbanPromise, Trinet's team of technicians coordinated the live production, video encoding, web interface, streaming broadcast and archival capabilities. The webcast received 4,000 hits, including multiple viewers from Spain and Canada.
Trinet's development also allowed for the webcast to be viewed in different bit rates, ensuring that viewers logging on from all types of Internet connections would be able to watch the event.
"It was truly an honor to help UrbanPromise commemorate 25 years of impacting the lives of children and young adults," stated Ron Weber, Chief Operating Officer at Trinet Internet Solutions, Inc. "Trinet's team continues to take pride in providing cutting-edge technology to organizations working to make a difference in the world."
About UrbanPromise:
Since 1988, UrbanPromise's mission has been to equip Camden's children and young adults with the skills necessary for academic achievement, life management, spiritual growth, and leadership. The organization strives to fulfill this mission through after-school programs, summer camps, two schools, experiential learning, job training, and a host of other programs that challenge youth to develop and realize their potential. To learn more about UrbanPromise, visit www.urbanpromiseusa.org.
About Trinet Internet Solutions, Inc.:
Trinet Internet Solutions, Inc. is a full service web-firm with an East Coast office in the metro Washington, D.C. area. Founded in 1995 and now an award-winning agency with hundreds of clients, the company has grown to have expert capabilities in web strategy, design, advanced development, custom application programming, social media, search and mobile marketing, along with web campaign management, support and analysis. To learn more, please visit www.trinetsolutions.com/portfolio.
###
If you'd like to learn more about this topic or Trinet Internet Solutions, Inc.
please contact Melissa Wong at 949.442.8900.