PRESS RELEASE
FOR IMMEDIATE RELEASE
CONTACT: Melissa Wong


PHONE: 949.442.8900
EMAIL: melissa.wong@trinetsolutions.com
WEBSITE: www.trinetsolutions.com
TRINET INTERNET SOLUTIONS LAUNCHES
CUSTOM WEBSITE FOR ALOHA GOLF CARD
IRVINE, Calif., – June 28, 2012 – Today, Trinet Internet Solutions, Inc. launched a website for Aloha Golf Card, a company that provides its members access to participating courses in Hawaii and select destinations for exclusive discounted green fees and other value-added benefits.
Trinet's web strategy for Aloha Golf Card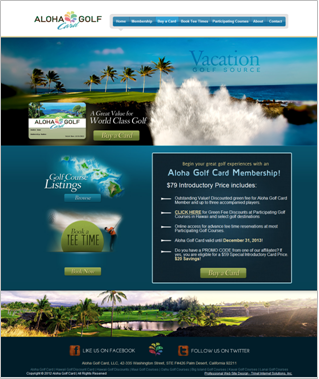 was to create a site that properly introduces
the brand and its membership opportunities,
as well as engage potential members online.
Trinet's team of web strategists provided
expertise and made recommendations to
help the company gain exposure through
both online and offline marketing initiatives.
Trinet's award-winning team then created a
website that reflects the Aloha Spirit,
featuring imagery of Hawaiian golf courses
and a sophisticated design that appeals to
the brand's affluent audience. Web visitors
are provided information about membership
benefits in addition to a list of participating
golf courses.
Following the purchase of a card using the
site's eCommerce functionality, cardholders
can enjoy the convenience of making online
tee time reservations in advance.
"We have received praise in the design and functionality of our website, leading us to feel the
utmost pride and satisfaction," said Denise Adams, Managing Partner for Aloha Golf Card.

To learn more about Aloha Golf Card, visit http://www.alohagolfcard.com

About Trinet Internet Solutions, Inc.:
Trinet Internet Solutions, Inc. is a full-service web firm headquartered in Irvine, CA with an East Coast office in the metro Washington, D.C. area. Founded in 1995 and now an award-winning agency with hundreds of clients, the company has grown to have expert capabilities in eMarketing strategy, consulting services, web design and development, custom application programming, social media, mobile marketing, tablet development, campaign management and measurement services. To learn more, visit To learn more, visit http://www.trinetsolutions.com
###
If you'd like to learn more about this topic or Trinet Internet Solutions, Inc.
please contact Melissa Wong at 949.442.8900.