PRESS RELEASE
FOR IMMEDIATE RELEASE
CONTACT: Melissa Wong
PHONE: 949.442.8900
EMAIL: melissa.wong@trinetsolutions.com
WEBSITE: www.trinetsolutions.com
TRINET RELEASES LIVE AND ON-DEMAND VIDEO iPAD APP FOR TRINITY BROADCASTING NETWORK
Largest Religious Television Network Launches Video iPad App

IRVINE, Calif., – July 12, 2012 – Today, Trinet Internet Solutions, Inc., a full-service web firm in Orange County, launched an iPad app for the Trinity Broadcast Network (TBN), which provides access to 10 live television channels 24 hours per day, 7 days a week.
This custom app includes a liv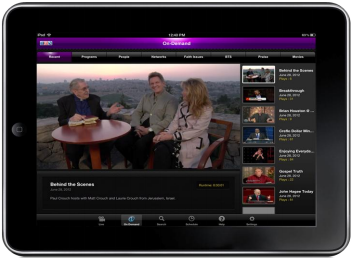 e broadcast
schedule, channel selection, on-demand
viewing of archived shows and videos,
donation functionality and show listings. The TBN iPad app features award-winning programming, children's TV shows, music videos and much more across live channels in multiple languages, including English, Spanish, Farsi, Arabic, and Russian.
iPad users can now watch and enjoy live TBN programming through Edge, 3G or WiFi connections.
"This iPad application allows TBN to expand their audience to the 55 million iPad users," said Ron Weber, Chief Operating Officer, Trinet Internet Solutions, Inc. "It is a privilege to help TBN expand their reach through the latest technologies."
In addition to this iPad app, all of TBN's channels are available to iPhone, iPod Touch, Blackberry, Android and Windows Mobile users.

About Trinet Internet Solutions, Inc.:
Trinet Internet Solutions, Inc. is a full-service web firm headquartered in Irvine, CA with an East Coast office in the metro Washington, D.C. area. Founded in 1995 and now an award-winning agency with hundreds of clients, the company has grown to have expert capabilities in eMarketing strategy, consulting services, web design and development, custom application programming, social media, mobile marketing, tablet development, campaign management and measurement services. To learn more, visit To learn more, visit http://www.trinetsolutions.com
About Trinity Broadcast Network:
Trinity Broadcasting Network (TBN) is the world's largest religious network and America's most watched faith channel. TBN offers 24 hours of commercial-free inspirational programming that appeal to people in a wide variety of Protestant, Catholic and Messianic Jewish denominations. To learn more about TBN, visitt www.tbn.org

###
If you'd like to learn more about this topic or Trinet Internet Solutions, Inc.
please contact Melissa Wong at 949.442.8900.