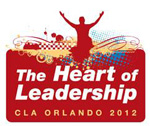 PRESS RELEASE
FOR IMMEDIATE RELEASE
CONTACT: Melissa Wong
PHONE: 949.442.8900
EMAIL: melissa.wong@trinetsolutions.com
WEBSITE: www.trinetsolutions.com
TRINET SCHEDULED TO SPEAK AT
CHRISTIAN LEADERSHIP ALLIANCE CONFERENCE
IRVINE, Calif., - April 2, 2012 - Trinet Internet Solutions' President John Carley and Chief Operating Officer, Ron Weber will be speaking at the Christian Leadership Alliance (CLA) National Conference in Orlando, Florida on April 10 – 12.
This year's CLA National Conference features 28 full-day intensive seminars with over 100 in-depth workshops on organizational leadership, focusing on the theme The Heart of Leadership. Thousands of today's Christian nonprofit ministry leaders will be able to learn from Trinet's sessions, which belong to this year's Ministry Internet & Technology Summit.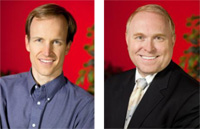 Trinet's scheduled sessions include:

Making Management Decisions about Web Marketing
Launching a Mobile Revolution for Your Ministry
"We are very excited to not only attend the CLA Conference again this year, but to speak and share our expertise with leaders from some of today's biggest churches and ministries," said John Carley, President of Trinet Internet Solutions, Inc.
"Web and mobile technologies are currently growing and improving at such a rapid pace and we're looking forward to the opportunity to better equip ministry leaders with the tools necessary to be effective."
With workshops ranging from Executive Leadership to Internet Technology, Christian Leadership Alliance's annual conferences have established themselves as the nation's premier conference for equipping today's Christian and Nonprofit Ministry leaders.
To meet with Trinet Internet Solutions at this year's CLA Conference, contact Melissa Wong today.
About Trinet Internet Solutions, Inc.:
Trinet Internet Solutions, Inc. is a full-service web firm headquartered in Irvine, CA with an East Coast office in the metro Washington, D.C. area. Founded in 1995 and now an award-winning agency with hundreds of clients, the company has grown to have expert capabilities in eMarketing strategy, consulting services, Web design and development, application programming and eMarketing management and measurement services. Trinet's portfolio of clients can be found at www.trinetsolutions.com/portfolio.
About Christian Leadership Alliance:
Christian Leadership Alliance (CLA) is an association that services more than 8,000 members working in more than 4,000 organizations worldwide. CLA is the nation's leading resource for enhancing the organizational effectiveness of churches and para-church ministries. To learn more about CLA, visit http://www.christianleadershipalliance.org.

###
If you'd like to learn more about this topic or Trinet Internet Solutions, Inc.
please contact Melissa Wong at 949.442.8900.