PRESS RELEASE
FOR IMMEDIATE RELEASE
CONTACT: Melissa Wong
PHONE: 949.442.8900
EMAIL: melissa.wong@trinetsolutions.com
WEBSITE: www.trinetsolutions.com
TRINET INTERNET SOLUTIONS DEVELOPS ONLINE STRATEGY TO INCREASE 2012 VOTE BY 3 MILLION EVANGELICALS
IRVINE, Calif., – December 14, 2011 – Orange County web design firm, Trinet Internet Solutions, Inc. has developed a comprehensive online strategy for Restore America to achieve its online goal of increasing the evangelical vote in the 2012 elections.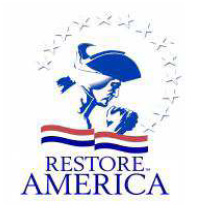 Restore America believes that when Christian voters take their civic responsibilities seriously, and return to the polls, America will be restored to its foundational Christian ideals and principles. The goal of Restore America is to increase the number of evangelical voters to be 3 million more in 2012 compared to the number in 2008.
In order to make this vision a reality, Restore America has turned to Trinet Internet Solutions to develop and implement a roadmap for online success.
"This is a huge undertaking," stated David Crowe, Director of Restore America. "We needed to make sure that we went with an accomplished and reputable team to help make this happen."
Trinet Internet Solutions CEO & President, John Carley commented, "Trinet is excited to be part of Restore America's team working on a goal of reaching 3 million additional evangelical voters by November of 2012." Trinet Chief Operating Officer Ron Weber added "We are really proud of the online roadmap that we developed for David Crowe and the Restore America team, and we look forward to working together with them through the roll-out of this project."
After extensive research and analysis of Restore America's online goals, taking into consideration industry best practices and Restore America's current online efforts, Trinet developed a strategy tailored to Restore America's needs. The strategy developed will pioneer new ground, utilize online assets including websites, social media, online advertising, viral content and other means to achieve an offline result.
To learn more about the mission and vision of Restore America, visit http://www.restoreamerica.org
About Trinet Internet Solutions, Inc.:
Trinet Internet Solutions, Inc. is a full service web design firm, headquartered in Irvine, CA with an East Coast office in the metro Washington, D.C. area. Founded in 1995 and now an award-winning agency with hundreds of clients, the company has grown to have expert capabilities in web strategy, design, advanced development, custom application programming, social media, search and mobile marketing, along with web campaign management, support and analysis. Trinet's portfolio of clients can be found at www.trinetsolutions.com/portfolio.
About Resore America:
Founded in 1999, Restore America is a nonprofit organization working for the restoration and preservation of America "Under God."
###
If you'd like to learn more about this topic or Trinet Internet Solutions, Inc.
please contact Melissa Wong at 949.442.8900.