TRINET CASE STUDIES
Love Worth Finding
Trinet partners with Love Worth Finding, the radio ministry of Adrian Rogers, to develop a Twitter social media campaign to increase social engagement and product sales.
Trinet creates a "Twiveaway" campaign, which awards copies of the Adrian Rogers Legacy Bible to Twitter users who follow the Love Worth Finding Twitter account and "retweet" a specific Tweet. By "retweeting," users repost the Tweet on their own accounts and share the post to their network of followers, resulting in a mass wave of constituent-to-constituent sharing.
Trinet's success, as measured by predefined parameters including click-through rates and product sales, continues to exceed client expectations.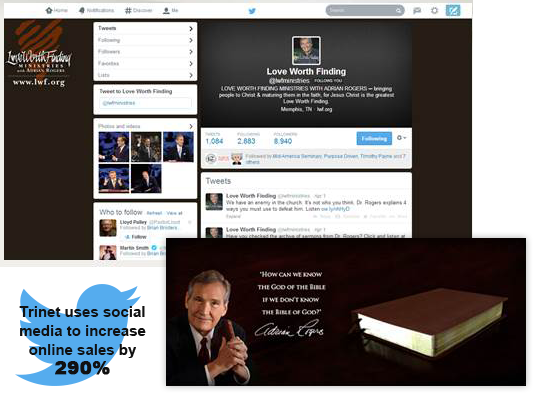 Trinet Client Experience Video - Love Worth Finding Adrianisms Social Media Campaign
Results:
400 retweets within 24 hours of launch

2,000 website click-throughs in the first 24 hours

290% increase in Bible sales within the first week

700+ new followers in the first 24 hours and 1100+ in the first week
Testimonial:
"Trinet's innovative suggestions with our social media campaign have increased not only our traffic, but the 'chatter' among the members of our Facebook and Twitter family! Now people WANT to go to our pages."
- Cathy Allen, Chief Operating Officer for Love Worth Finding