Travel Website Development That Focuses on the Experience
Travel website development that focuses on the experience and how a trip will change the lives of those going is far different than a site that books flights, hotels, cars, etc. A valued and visited travel site focuses on the locations people are visiting with custom design and development along with fantastic images and video of the locations. Visitors to the site get excited about their upcoming vacation because the site is loaded with beautiful images, videos of the locations, recommendations on what to do, where to stay, what to see, etc. An effective travel site will provide an experience for users that compels them to take the next step and contact the agency to book the trip.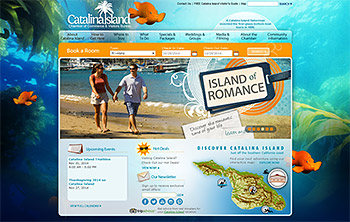 The Catalina Chamber of Commerce needed to update their existing site, which had content added to it over several years. This resulted in a site with broken and hard-to-find navigation, as well as outdated content. In addition, the old site looked very dated and out-of-touch with other competing sites promoting Catalina Island.
The solution for this travel website was the development of a new site which was visually stunning, with appropriate moving elements on pages, and the ability to take the large amount of information in the site and have it presented in a way that was easy to find through consistent and easy to use navigation. The resulting site became a 2009 Davey Awards winner for the tourism category. Since the launch of the new site for the Catalina Chamber of Commerce, they have seen visitor time on site increase over 200 percent. The site offers prospective visitors to Catalina Island everything they need to book their vacation to the destination, all in one easy to use and visually stunning site.
FREE Web Design Consultation
949.442.8900
In addition to professional travel website development, Trinet Internet Solutions, Inc. is a leader in providing award-winning website design for businesses and non-profits around the U.S. Trinet has always been a forerunner in offering clients the latest in online technologies. In addition to custom web design and development, Trinet works with companies to develop and implement digital marketing strategies and initiatives including the use of Twitter, Facebook, YouTube, blogs, email marketing, PPC, and custom digital ad campaigns.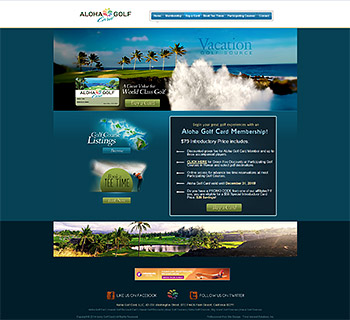 Contact Trinet today to go over your specific travel website development needs. We can be reached at
949.442.8900
or by email at
contactus@trinetsolutions.com
. Trinet's corporate headquarters is located in Orange County, California. In addition, a second location in Washington, D.C. serves our East Coast clients and a third location in Dallas Texas serves our Midwest clients. Over 30 employees in various specialties including custom award-winning website design and development, online marketing and strategy, webcasting services, and much more, are available at Trinet to handle every aspect of your online presence and success. We look forward to speaking to you and the opportunity to develop your businesses travel related website.