How an Experienced Roku Developer Can Grow Your Audience
A certified Roku developer can provide a cost effective way for your organization to reach a rapidly growing audience. Roku boxes connect viewers? televisions to the Internet, opening up exciting possibilities for brands to interact with their customers in new ways.
No other streaming device comes close to the audience that Roku reaches.
They allow any organization to develop a channel and publish content for customers to conveniently access from the comfort of their living rooms. Roku holds its channel providers to high standards, so partnering with a certified Roku developer is crucial to producing a quality channel on time and on budget.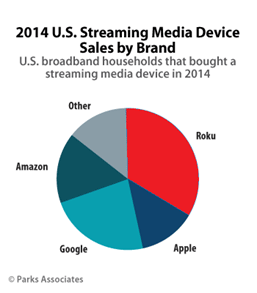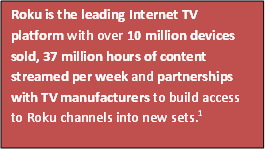 Roku developers create channels for viewers to watch live and on-demand content, play games, listen to music, share photos and videos, post to social media and more.
How Would Developing a Roku Channel Benefit My Organization?
A Roku channel gives an organization the opportunity to reach a large audience with new and existing content.
There is an opportunity to achieve long-term growth by establishing a presence on the rapidly growing Roku platform.
Developing a Roku channel can be an effective strategy for brand building, generating ad revenue and increasing sales. Whether you need an effective way to provide information or seek to monetize your content, the living room screen is a growing customer interaction point. In fact, the total number of Internet-connected TV?s is projected to double within the next 5 years and reach 876 million by 2020.
1
Roku developers provide the opportunity to feature your content in the same space as major providers like Netflix, HBO, and Amazon Video.
A few things to discuss when considering Roku development options:
What type of content is most valuable to your business and your audience?
Do you have the content production, servers, encoding and bandwidth capabilities to manage a high-quality streaming channel?
Will you provide content for free, charge a subscription, have customers pay-per-view, or display ads to bring additional revenue?
How will you integrate a Roku channel into your digital marketing strategy?
The TBN Roku Channel
America's largest religious television network and most watched faith channel, TBN, wanted to take advantage of the growing number of households with Internet-connected TV's. TBN partnered with Trinet Internet Solutions, Inc. on a custom Roku development project. Now, viewers and fans can access superior quality streaming for 7 live television channels, 24 hours per day, 7 days a week.
The stunning Roku application features award-winning programming, children's TV shows, music videos and much more.
TBN has extended its reach to both its current fan base and new viewers alike as a pioneer in Internet TV. Many other religious organizations have followed in their footsteps, making Roku a major destination for viewers to find religious content streamed over the Internet.
Look for an Experienced Roku Developer
Developing a Roku channel will put your organization at the forefront of technological innovation and provide immense opportunity for both brand exposure and increased revenue.
It is important that you partner with a Roku developer that can educate you about all the requirements and phases of the development process. In determining whether or not Roku development is right for your company, consider your options, weigh the risk, evaluate the potential ROI, and talk to an expert. Developers are a dime a dozen. Consider investing in a strategy that will not only produce a fantastic channel, but bring about the traffic, and ultimately, revenues to bring you to the top!
As an award-winning Web firm and approved Roku Developer, Trinet Internet Solutions, Inc. can integrate your company's content, audio, video, ecommerce and more to captivate your audience and grow your organization.
Our steps to maximize the impact of Roku channels:
Strategy Consulting
Channel Architecture
Design Catered to Target Audience
Development and Launch
Promote New Channel
Trinet was one of the first Internet-connected TV developers, and continues to push the envelope of innovation and technology. Our expert team of developers and programmers love what they do, and value the products and services that enable our clients to succeed! With over 30 employees and locations in Orange County, California, and Washington, D.C., Trinet Internet Solutions, Inc. is ready to assist you with all your web design needs and Internet marketing initiatives.
Contact Trinet Internet Solutions, Inc. today at
949.442.8900
or send an email to
contactus@trinetsolutions.com
with any questions you might have related to web design, web development, TV widget and mobile application development, Yahoo connected TV widgets, RoKu channel development, Amazon Fire channel development, Google Chromecast development, Apple TV development, online marketing, search engine optimization, social media optimization, email marketing, blogging, PPC campaigns, or anything else related to the online branding of your company's web properties.

1. https://www.digitaltvresearch.com/products/product?id=127