Professional Web Site Design at Trinet Internet Solutions
Trinet Internet Solutions has been creating custom professional web site designs for clients since 1995. Over the years, there have been a multitude of changes and improvements to professional web site designs; Trinet helps clients successfully establish, redevelop and maintain their online presence. Unlike other web design companies, our services and expertise are not limited to professional web site design and development. They also include: custom application development, advanced web site tools and interactivity, web 2.0 integration, custom graphics development, webcasting, hosting, and more. We offer clients the right tools, experience, and expertise to provide you the best and latest in professional web site design.
Professional Web Site Design with a Difference
Clients choose Trinet to be their technology partner because of our technical expertise and experience in the online world. We have a reliable track record of working with clients to develop an effective online presence, by creating end-user experiences that increase revenue in online and offline sales. By designing custom web applications, productivity and efficiency can be increased within a business environment.
We understand that you have particular ideas and desires for both look and functionality of your site; By listening to your specific needs and objectives, we develop a solid strategy related to your professional web site design project. We have ideas and suggestions, but would rather learn from you what it is you are seeking. We then take that knowledge and integrate your ideas into the final product. That is the Trinet Internet Solutions difference. For over 20 years, we have been designing and developing custom web sites; we have had great success implementing client input throughout project development.
We work to develop strategic goals, adopt the objectives of your business, and present creative, modern, and innovative solutions. Whether we work with your existing in-house web team or we are your web team, our objective is to work closely with you to create a product that achieves your business objectives.
Professional Web Site Design Studies
Below, we have included different designs and the specs related to the individual projects referenced. For further examples, visit the additional links below to our company portfolio and various case studies.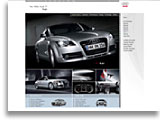 Audi - Performance Brought to Life
Design Study: Create a sleek and stylish, emotionally charged design that creates a strong attachment to the brand. With the goal of accurately portraying Audi's core image through the website while attracting their target demographic, a bold design was created to reflect the performance, style, and exclusivity of owning an Audi.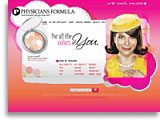 Physician's Formula
Design Engagement: Unlike traditional websites, this site design was designed to be bold and unique in approach. The goal was to create a new look and feel for the site that sought a refreshed and innovative approach to appeal to a younger demographic while maintaining the existing older demographic appeal and company image. The result was a fresh design that invites the audience of a wide demographic to experience the essence of the brand from first glance.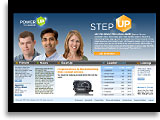 LinkSys Interactive Training
The challenge from LinkSys was to create a campaign to increase domestic-channel partner sales throughout Best Buy & CompUSA retail outlets. The solution was an interactive training incentive for in-store sales staff on the wide variety of Linksys' home and small business networking products. This resulted in LinkSys being very impressed with this training tool and product selector and the increased sales & brand awareness within their channel partners.
The Trinet Internet Solutions team is standing by to work on your professional web site design project. Contact us about design, custom application development or any other "web ideas" you may have in mind. Remember, we excel in taking those "ideas" and turning them into reality for your business or organization. Click
HERE
to view several case studies related to Trinet Internet Solutions design and application projects. Click
HERE
to view our portfolio of professional web site designs and applications for a selection of clients.
We look forward to the opportunity to speak with you regarding your individual vision and needs for your professional web site design project. Call Trinet Internet Solutions today at
949.442.8900
or send an inquiry email at
contactus@trinetsolutions.com
.