Why Influencer Marketing is Taking Over Brand Strategies
Marketing is changing. Advertising and public relations don't seem to be holding the same weight they used to. People are no longer making purchasing decisions based solely on a traditional or online advertisement. This is because information that is easily accessed through the internet has empowered this generation to take buying into their own hands. More than ever, they want to research, watch demonstration videos, read reviews, and experience the opinions of others before purchasing a product. How do marketers adjust to these buying trends? The key: influencer marketing.
What is Influencer Marketing?
Influencer marketing is a type of marketing where brands shift from communicating directly with their audience to channeling their message through leaders in their related niche/community. The reason influencers are so important is because consumers have become weary of "corporations;" they are more resistant than ever to trust direct brand messages with a sales-driven tone. Instead, they look to respected peers that they follow online.
Influencers are leaders who have already gained the trust of the audience a brand is trying to reach. They have accomplished this by serving as brokers who share their knowledge and thoughts simply to help others. Influencers work creatively to release content on social media channels that is entertaining, informative, and value-driven. After a period of consistent content creation and promotion, influencers gain the trust of dedicated followers. To summarize, an influencer is someone who:
Generally, has over 10,000 followers
Brands engage with to promote their product/service/message
Shares information about products, brands, and causes they love
Serves as an expert in their niche
You Need a Brand Influencer to Build Trust
When it comes to increasing sales and revenue with new and current customers, trust is the most important factor. If someone trusts that a product or service will bring them the life-transformation that is promised by the marketing messaging, sales will happen. If the prospect is filled with doubt, uncertainty, or lack of trust, they will not complete the transaction. Influencers are trusted authorities in their niche. Whether their topic is fashion, gaming, nutrition, etc., their community comes to them looking for advice, training, tips, and entertainment.
Within their community, influencers "lease" the trust they've established to give their audience confidence in a brand's product or service. Think of influencers as a shortcut to positive brand affinity; they inspire their community to take action. Influencer marketers are partnered activists who integrate a brand's message in their high-quality content to ignite new, unimaginable levels of growth. The return on investment that influencer marketers are seeing is nothing short of incredible.
Influencer Marketing Agency Return on Investment
Of the brands that used influencer marketing in 2017, 92% found it to be effective. Currently, many brands experience that influencer-created content is outperforming brand-created content. The increased adoption of influencer marketing indicates that this strategy is becoming a critical component of the marketing mix. It is not a passing trend to be overlooked.
Influencer Marketing Case Study
In 2015, Lord + Taylor, a retail giant, collaborated with 50,000 influencers. Lord + Taylor asked the influencers to each take a picture of themselves wearing a specific dress on a specific day. Through financial incentives, the Instagram influencers took action, and the campaign reached 11.4 million Instagram users. This resulted in 328,000 actions on Lord + Taylor's Instagram account. The dress sold out without most of the buyers even realizing they were being advertised to.
Influencer Marketing Statistics
Why are brands seeing so much success with influencer marketing? Surprisingly, it has been quantifiably proven that influencer marketing is very effective compared to traditional forms of digital marketing. Here are some notable influencer statistics that help explain this:
70% of millennial consumers are influenced in buying decisions by the recommendations of the peers (Collective Bias, 2016)
The increase in influencer marketing 2014-2018 mirrors the decrease in print advertising (Google Trends, 2018)
92% of customers trust strangers over brands (AdWeek, 2015)
81% see success from influencer marketing (AdWeek 2015)
Marketers are generating on average $7.65 for every $1.00 spent (Influencer Marketing Hub, 2017)
47% of customers have reported that they use ad blocking technology (Forbes, 2016)
Over 31 percent of consumers across the US and Europe said they have purchased a product or service based on a social influencer post (Olapic's Psychology of Following Study, 2018)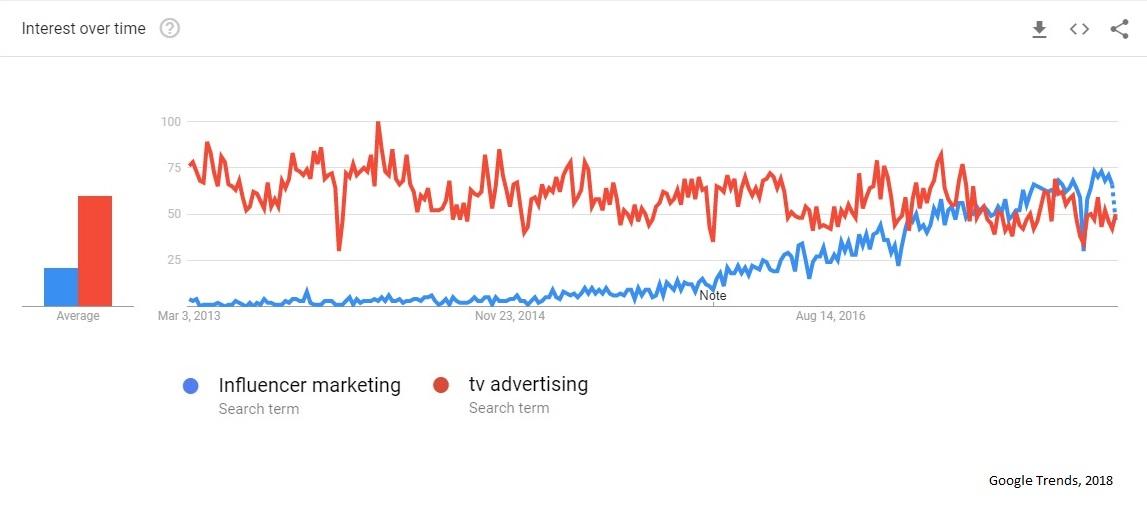 Brands need to seriously consider influencers because the impact of other marketing strategies is dwindling. Google trends demonstrate that influencer marketing is overtaking television, print, and radio advertising. Display ads also used to be very effective; however, because increasing numbers of consumers are using an ad blocker, many of these campaigns are not even being seen.
Paid content provider services like YouTube Red and Spotify Premium have also made it difficult to reach consumers as they are paying to get rid of ads. If brands fail to adjust their marketing strategy in light of these rising trends, they will be investing in campaigns that are unseen and yield few results. Thankfully, influencer marketing empowers organizations to reach audiences, without being affected by ad blockers, and in a relevant way.
Measuring ROI with Influencer Marketing Campaigns
To evaluate the cost of an influencer marketing campaign compared to the revenue it brings in, you need to establish important tracking solutions before the campaign launches. A few examples include:
Coupon or promotional code. Creating a coupon code exclusive to each influencer you work with is one of the easiest ways to track response and ROI. For example, if you give every influencer a code using their name, you can calculate how many sales were brought in per coupon code and see which influencer earned your company the most revenue.
Tracking clicks. Tracking pixels from Google Analytics let you see the amount of people who are coming to your site and where they came from. Assign each of your influencers a UTM (Universal Tag Manager) campaign code and evaluate who is generating the most visits.
Evaluate clicks in a time window. In some cases, it can be difficult to use tracking codes and coupons. For example, Arielle Charnas, a beauty blogger, posted a Snapchat story about a brand's beauty mask. During the 24-hour period her story was live, the collaborating brand sold over 500 masks.
To calculate influencer marketing ROI, use this formula. ROI = (sales or value generated - costs)/costs. According to the 2017 State of the Creator Economy Study, the average price charged by influencers to create and post a sponsored photo is $62.00. Let's say you pay this rate and give an influencer the 10% off coupon code, INFLUENCER, to share with their followers. Within on day, 5 coupon codes have been redeemed, bringing in sales of $300.00. Your ROI on influencer spend would be ($300-$62.00)/$62.00 = 384%. A more granular calculation would also include the cost/time it took to discover the influencer and plan the campaign.
Types of Social Media Influencers
Social media influencers are some of the most sought-after influencers. Unlike influencers who depend mostly on blogs or podcasts, social media influencers have gained the loyalty of consumers using the very platforms that occupy most of their following's mobile activities. Social media channels are valuable because they are conversational. These two-way communication platforms can instantaneously spark dialogue. Through comments and private messages, these conversations build lasting trust between an influencer and their community. Whether a social media influencer's audience is small or large, they can reach consumers via their social networks that your brand may not be able to by using a personal/authentic tone. Here are the different types of social media influencers:
Facebook Influencers
Facebook is by far the most popular social media network worldwide. The platform has over 2.2 billion monthly active users, making it a valuable marketing platform for brands looking to reach massive audiences. In January 2018, Facebook announced that it wants to clean up its cluttered news feed by increasing the viewability of user-generated content. As a result, organic brand reach is decreasing and the cost of paid Facebook ad promotion is increasing.
As Facebook gives favor to content from friends and family over posts from brands, now is an excellent time to partner with influencers who maintain authentic relationships with their audiences. A study by Mavrck claims that when an influencer posts about a brand on Facebook, it results in 6.9x more engagement than the post from the brands themselves. Brands can approach Facebook influencers to share exciting content/reviews/giveaways on Facebook stories, NewsFeed or Facebook Live (Facebook reports 3x longer viewing rates on live videos compared to regular videos). These are some of the best ways you can partner with influencers to increase the reach of your brand on Facebook.
Instagram Influencers
Instagram is the top photo and video sharing channel on the internet. Users share images and video they create both in their feed and stories (a feature that lets users post photos, videos, and live videos that disappear after 24 hours). The platform also enables hashtags so that users can gain increased visibility of their posts. Instagram is a place where influencers thrive because it has increased its user base to over 800 million monthly active users in the last five years. This channel is particularly popular with fashion, lifestyle, and fitness enthusiasts. Although Facebook is still the social media site with the most monthly active users, Instagram doesn't lag far beyond. It's a platform where 75% use it for more than 15 hours a month.
Brands can approach Instagram influencers to post a compelling picture or video with their product. If an influencer agrees to work with your brand, they will find a way to create a post that is authentic and attractive to their audience. One thing to keep in mind when working with Instagram influencers is that in order to meet the FTC's disclosure requirements, Instagram influencers must state that their post is sponsored above the fold of the caption.
YouTube Influencers
YouTube is a platform with more than 1 billion viewers, almost one-third of all people on the Internet. According to YouTube Press, there are over 100 hours of video uploaded per minute and 6 billion hours of viewership each month. YouTube is not only the leading video social network but it is also the second largest search engine in the world. This platform presents incredible opportunities to reaching new audiences with your marketing messages.
Video is one of the most recommended content channels to create in partnership with an influencer. Video helps organizations tell a more engaging story. It shows how the product or service fits into day-to-day life. It also allows users to more significantly experience the passion/positive emotions an influencer has for a product. This added layer of engagement makes a huge difference when trying to generate interest, traffic, and conversions.
Influencers on YouTube have become so noteworthy, they are now more popular among U.S. teens than Hollywood celebrities. Out of all of the social media channels, Forbes claims that YouTube delivers the best return on investment. This is because YouTube influencers can educate consumers and drive conversions in one step. A YouTube influencer can also hold the attention of their audience longer than a single post, tweet, or story. If a brand wants to sell a product or promote a service, utilizing a YouTube influencer's loyal audience is an effective way to do so.
Twitter Influencers
Twitter is the go-to platform for short, real-time conversation. It combines the simple power of short-form content with word-of-mouth marketing to create a profound difference in the attitudes of consumers. According to Twitter, nearly 40% of Twitter users say they've made a purchase as a direct result of an influencer's tweet. With over 330 million active users, Twitter is a great platform to target new audiences by partnering with influencers.
Brands go to Twitter to build lists of potential influencers they want to partner with. The most common private lists brands create include: people in their industry, micro influencers in their industry, and large influencers in their industry.
Snapchat Influencers
Snapchat is the first choice of many brands that are looking to reach young audiences. 71% of Snapchat users are under 34 years old, and roughly 70% of Snapchat users are female. It's the third most popular social network among millennials.
Snapchat is primarily known as a platform where influencers can be highly personal, authentic, and engaging to their audience. Users post "snaps" (in the form of pictures and video) to their "story," and the story remains visible to followers for 24 hours, unless otherwise deleted. Users can also annotate their content with drawings, filters, lenses and emojis. The result is content that doesn't make consumers feel like they are looking at ads. As of February 2018, Snapchat influencers now have access to valuable channel data that brands can measure in their decision making. These metrics include:
Total views
Unique viewers
Completion rates
Time spent watching
Audience demographics, including gender and age
Topics their followers care about
Geographic regions where their followers live
Brands hire Snapchat influencers to reach Generation X and Generation Z audiences in a way that feels genuine and not like stale, traditional advertisements.
Our Influencer Marketing Agency Can Help
Consumers are growing tired and skeptical about the authenticity of brands. This is resulting in the declined effectiveness of traditional advertising. An influencer marketing campaign has great potential to bypass the pitfalls of common marketing techniques and launch your business to new levels of growth. Bloglovin' found that 63% of marketers increased their budgets for influencer marketing in 2017. Today influencer marketing is the primary weapon brands are choosing to overcome their biggest hurdles and gain an advantage over their competitors.
Launching an influencer marketing campaign can feel overwhelming. You need to develop your strategy, determine your social media channel, compare available influencers, prepare creative briefs, negotiate contracts and compensation, and trust the influencer to successfully bring your brand to their audience. This is why hiring an influencer marketing agency can be a great option if you feel like you're ready to take the leap with influencer marketing. From influencer discovery to the launch of the campaign, our teams tap into the creativity and skill of relevant social media superstars to deliver results that traditional marketing cannot.
Influencer marketing interest is at an all-time high for a reason. To ignore this marketing strategy is to ignore an amazing opportunity to gain more customers and sales. It is by far the most profitable way to leverage Facebook, YouTube, Twitter, Instagram, and Snapchat.
Trinet will help you create an influencer marketing strategy and plan to ignite real results for your business. Through our network of influencers, your brand will be able to establish a greater connection with consumers than ever before. Not only will you enjoy the responsive and results-driven partnership with our team, you'll love the creativity and passion we bring to the table. We've won over 98 awards in digital marketing strategy, social media marketing, website development, e-commerce solutions, and creative marketing campaigns.
Sources
http://www.zdnet.com/article/influencer-marketing-cuts-through-noise-and-drives-sales-for-brands-but-take-up-could-be-better/
https://izea.com/2018/02/15/2018-content-marketing-statistics/
https://www.theleverageway.com/blog/influencer-marketing-facts-statistics/
https://shanebarker.com/blog/influencer-marketing-stats/
http://www.adweek.com/digital/why-influencer-marketing-is-the-new-content-king-infographic/
http://www.olapic.com/resources/consumers-follow-listen-trust-influencers_article/
https://izea.com/2017/05/02/what-is-an-instagram-influencer/
http://info.mavrck.co/facebook-user-generated-content-benchmark-report-q1-2017
https://shanebarker.com/blog/facebook-influencer-marketing/
https://blog.hootsuite.com/working-with-youtube-influencers/
https://techcrunch.com/2014/12/31/how-to-find-the-right-youtube-influencers-for-your-brand/
https://www.bigcommerce.com/blog/youtube-influencer-marketing/
https://www.socialmediaexaminer.com/youtube-influencers-work-with-derral-eves/
https://blog.twitter.com/marketing/en_us/a/2016/new-research-the-value-of-influencers-on-twitter.html
https://www.inc.com/shane-barker/why-influencer-marketing-has-become-a-powerful-weapon-for-brands.html