How Conversion Rate Optimization Services Can Explode ROI
Conversion rate optimization is the practice of optimizing websites to ensure that web visitors complete specific calls to action during their website visit. A website call to action could be purchasing an item or subscription, signing up to be on an email list, forwarding an article to a friend, watching a video, completing a contact form, downloading and installing an application or any number of other tangible, measurable actions.
Conversion rate optimization, sometimes referred to as website tuning, is one the most critical and often overlooked aspects of a successful website necessary to achieve a strong return on the website investment. "Un-tuned" websites can be completely ineffective at generating tangible business results for the website owner, and achieve zero or even negative return on investment.
Notably, the effectiveness of a website from a conversion optimization standpoint bears little relationship to how the website actually looks visually. A website can have a stunning visual design, but be completely ineffective at actually generating tangible business results. Conversely, a simple, ordinary looking website could actually be very effective at generating conversions. It is typically not possible to determine, via visual inspection, whether a website performs well at conversions or not. Analysis of analytics data, specifically action pathway data, is key to determining a website's effectiveness. Action pathways are the specific steps by which a web visitor is directed from the home page or landing page, through a sequence of pages leading to a call to action. Action pathways must be designated, marked out, and tracked via analytics in order to determine their effectiveness. Furthermore, action pathway tuning must be performed in order to improve the effectiveness of pathways that are not performing well.
Development of action pathways must begin with first, identifying the target personas (or target visitor profiles). Once profiles have been established, then specific calls to action can be formulated for each target persona. The calls to action are then translated into a sequence of steps, from the initial home page or landing page, to the final call to action page. The action pathway approach is markedly different from a typical website design approach, which only considers web pages individually in isolation. Action pathway analysis requires design of a sequence of pages together, considering logical flow, messaging, and specific interests of the target persona. It may be necessary to create multiple action pathways for each persona, depending upon the number of calls to action desired.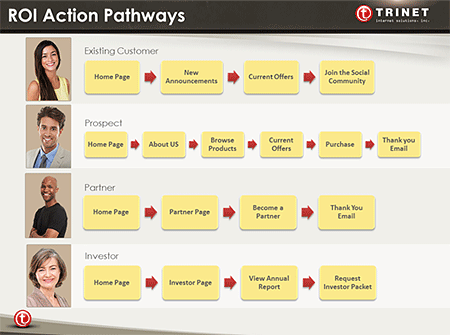 Once a website storyboard has been designed around the action pathways, user design and visual design artists come in, and create a visual and aesthetic design layout incorporating the action pathways that is in alignment with the branding and visual theme that needs to be portrayed. As the website is built out, specific tracking for the action pathways must be incorporated and setup, as web analytic packages do not, by default, track and report on action pathways unless the action pathways have first been specifically setup and defined in the analytics package.
Once the website is launched, it is necessary to operate the website for a period of at least 2-4 weeks, depending on website traffic, in order to gather enough data on the action pathways to determine which pathways are performing well, versus not performing. An example of a poorly performing pathway may be one where a large number of visitors begin the pathway, but many drop out along the way, resulting in few if any completions at the end call to action. In such a case, techniques like AB testing are employed in order to improve the results from the pathway.
A typical AB test presents two versions of an action pathway webpage to a visitor, with 50 percent of the visitors presented with the original page (let's call it version A), and 50 percent presented with an alternative page (let's call it version B). After running the test for a few weeks to gather enough statistical data, the version that performs better is kept, and the version that doesn't perform is dropped. By using this simple test methodology on underperforming action pathways, dramatic conversion increases can be achieved, on the order of 2 or 3 times the previous results.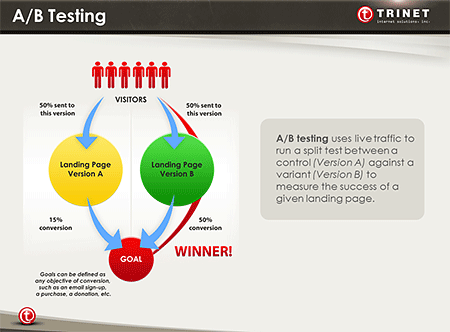 Conversion rate optimization services are one of the most important elements you should have an agency include in any web development project, and is a key methodology used by
Trinet Internet Solutions - (949.442.8900)
not only for websites, but for social media campaigns, mobile applications, email campaigns, search engine optimization, and digital advertising campaigns.
Why spend money getting a visitor to a website or a landing page, if the visitor abandons the website or landing page before completing the call to action?
Conversion rate optimization services, when properly executed, can yield dramatic increases in visitor conversions.
Consider working with an agency that specializes in conversion rate optimization services to effectively leverage your entire website for the most ROI possible. There are likely many areas of your site that are not optimized for optimal results right now. You are missing out on increased engagement and revenue if the site is not optimized.
Learn more about Trinet's Conversion Rate Optimization Services for your business.

Call us today at 949.442.8900.