Award-Winning Web Design for the Tourism Industry
Developing the most efficient web design for your tourism industry site depends on the overall function of your site. Is the site a portal for obtaining fares, scheduling flight and making car reservations? If it is, then function and pricing are the top two factors for that site's success. The site must function efficiently, accurately, and quickly for customers to be satisfied and comfortable to make the purchase.
Web design for a destination in the tourism category is different than a scheduling site. These sites must provide an experience, to appeal to everyone's desire to get away to a new destination for a time of refreshing and renewing. This site must be visually stunning and must help create a sense of anticipation for visiting the destination. This requires top notch designers who understand the needs of the end customer, and who are capable of creating a site that draws people in and provides them with the trip of a lifetime.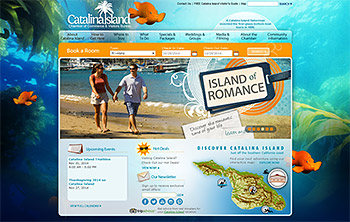 Award-winning Trinet Internet Solutions, Inc. creates sites that draw people in. Creating web design for the tourism industry has helped to revolutionize the amount of visitors to their sites and has increased the time visitors stay on the sites. For example, the award-winning redesign for the Catalina Island Chamber of Commerce (www.catalinachamber.com) has increased visitor time on the site more than double what it used to be prior to the redesign. Visually, the site is stunning, and offers many interesting and visually entertaining locations for visitors to explore. In addition to this, the site also provides all the great resources they need to plan a vacation to Catalina Island. Within easy reach, visitors can find lodging options, dining locations, activities on and around the island to enjoy, and events that are happening at any given time of year.
FREE Web Design Consultation
949.442.8900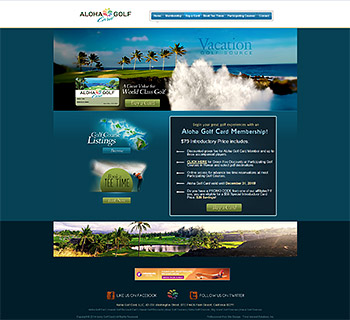 Another tourism client is the Aloha Golf Card site (www.alohagolfcard.com). This site provides an easy way for users to purchase one card that allows them to play golf at a wide variety of courses on the Hawaiian Islands. All information is provided in a visually stunning arrangement, showing various photographs of some of the courses visitors can play with the card. This site is simple in its design and function, allowing all users the ability to quickly purchase their card and find the courses they want to play.
Since 1995, Trinet Internet Solutions, Inc. has been working with clients all over the country to develop award-winning web design for the tourism industry and a host of other service related industries. Each project is analyzed to come up with the best type of web design possible for the specific application. In addition to this, each tourism site designed and developed is specifically tailored to the particular type of services offered, the locations of the packages, and the needs of the customers.
Contact us today to find out more about how we approach each travel related web design and how we can make a custom designed tourism site for your business at
949.442.8900
or by email at
contactus@trinetsolutions.com
. With offices in Orange County, California, Washington, D.C., and Dallas, Texas and over 30 employees in various specialties, we look forward to speaking to you about web design and certainly don't forget about the digital marketing initiatives. Oh yes, we are experts in digital marketing, ask us about it!